OK, zits and chin hairs must not have been punishment enough today. I opened the mail about 1 p.m. and had a letter from Animal Control threatening me with a $175 fine for allowing my dog to run loose, without a current rabies vaccine. There was a hand-written note highlighted at the bottom saying my dog was aggressive towards the mail carrier, and mail service to the entire block could be suspended.
Sigh. I don't have a dog. Haven't had one since my dear Fefe died four years ago.
As soon as I read the letter, I turned on the TV, and my cable promptly went out. I called Cox Cable and they sent someone right over (within a half hour. He arrived an hour sooner than they expected, so hey, something went right.) He quickly diagnosed the problem: Squirrels had eaten my cable. Yep. Squirrels.
I think I'll be checking to see if an elephant is strolling down the street towards the grade school down the block. It's about the only animal I haven't dealt with the past couple of days. So far, it's donkeys, dogs and squirrels.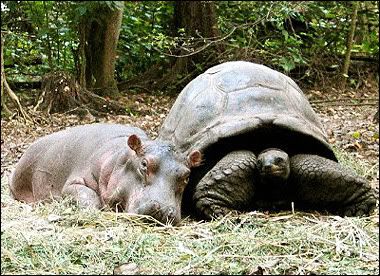 I hear Santa did answer some Christmas requests. For example, this tortoise got just what he asked for: He got a hippopotamus for Christmas! Hee hee!
Here's a bit of good news. There was a bank robbery a few blocks from my house today. The good news is I had just closed my accounts there recently, so I know he didn't get MY money!