I wanted to leave my last post, about passions, at the top for a couple of days to give people a chance to think about it for a while. We'll come back to that, but today I want to talk about serendipity.
The definition is "the faculty or phenomenon of finding valuable or agreeable things not sought for." Pfffft. That's a little fancy for saying "an unexpected happiness."
I've had several instances of "serendipity" in the past week. God often brings these surprises around when things are not going well.
Recently I interviewed the CEO of an international company for a story on hurricane relief efforts. Decades ago, she was my grade school music teacher! We were both so surprised by the chance encounter she invited me to a brunch last Friday morning in my hometown (Ponca City) at the
Marland Mansion.
She said it was for some of her former students and her fellow music teachers.
Well, I was delighted to attend. And when I got there, I discovered it wasn't just other music teachers. All of my surviving grade school teachers were there, as were my 6th grade principal and the widow of the school's janitor. I was thunderstruck!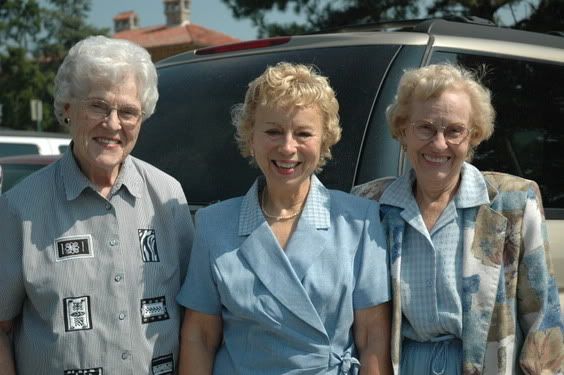 My art teacher, another teacher who came after I left grade school, and my gym teacher turned artist.
I had the chance to tell each of them specific things they had done that influenced my life. My gym teacher had taken up painting. My mother had bought one of her paintings of cardinals, which I now have in my bedroom.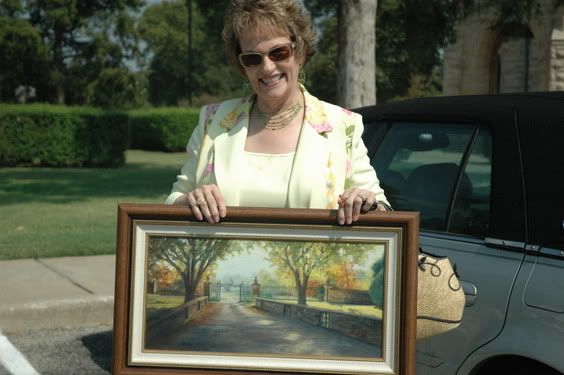 My former music teacher, holding a painting of the gate of the Marland Mansion painted by my former gym teacher.
My music teacher instilled a love of music in me -- or rather nurtured what was within my heart already. Now, as an adult, I am a pianist, I sing in a choir and I play handbells. I've used that skill to play piano in a big band and to do music therapy at several local hospitals and nursing homes.
The janitor's widow was a surrogate mother figure for many of the students. She may have thought her work went unnoticed, but it was not. She and one of the teachers would make dresses for the girls whose families could not afford to buy school clothes.
Mr. Lee with his 1949 Mercury.
My principal was still driving his 1949 Mercury coupe with the whitewall tires -- the same one he drove while I was a student. With each passing year, he's grown fonder and fonder of that car.
It was a great day -- after the brunch I went to the cemetery where my mother and brother's ashes were scattered. As I drove through the gate, my favorite hymn came on the radio -- "Be Thou My Vision." I parked in the shade of the tree next to the garden, rolled down the window and let the music drift out, for Bob.
Later I went to visit J.T.'s parents and had a great conversation with his dad, before heading home again.
It was a day filled joy and sorrows in exactly the right balance to restore my spirit.
Yesterday was another gift -- a morning in a rural area watching horses frolic in the cooler fall air. There's a new development going in which allows horses. The homes are huge and beautiful, but the grounds are without a doubt the best part.
It brought to mind the first part of the 23rd Psalm:
The Lord is my Shepherd; I shall not want.
He maketh me to lie down in green pastures:
He leadeth me beside the still waters.
He restoreth my soul.
Today I plan to plant some pansies outside my back door. Their smiling faces always remind me that God can bring beauty to the land even in the midst of winter.
When was the last time you had a moment of serendipity?