On Saturday, I needed a few hours of respite to step away and clear my head of all the sadness that has been surrounding me lately. It was a beautiful clear day with a gorgeous blue sky, so I went to Guthrie to the Apples and Quilts Festival.
It's a new festival that debuted this year and I got there on the last day of its five-day run. I had hoped for more, but it was a good beginning. I hope it returns in subsequent years, bigger and better.
Here's what I saw:
Here is the first character of the day. This guy was performing in a children's theater act as part of the festival. Yes, a pirate. A pirate wtihout a parrot. He has a fuzzy ducky instead.
Right beside him were the next characters... an older couple looking at a large quilt, trying to decide if it was suitable for them. A Red-Hat lady was telling them all about it. Not so sure the man was really into this, but he was being a good sport. I just realized you can't see his wife, behind the quilt.
Across the street we have the next quilt. The center motif is a cross. Each square contains one of the Beatitudes.
There were some really interesting quilt patterns displayed on one of the racks in this grouping. I liked these.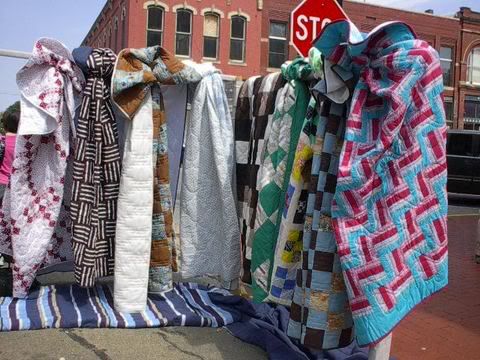 Some traditional, old-fashioned quilts -- flowers and yo-yos (tightly gathered circles that are then sewn together). Notice the basket of apples? That's what makes this the "Apples and Quilts" Festival. Saw lots of quilts... not so many apples. Some of the old Victorian buildings are reflected in the window.
I don't want to call these folks "characters," because they are the real deal. This is Eddie Two-Clouds, a Mescalero Apache Dancer. He was appearing in full regalia to sign prints of his portrait created by Cherokee artist Mary Beth Nelson.
This quilt was fascinating. It is called "The Bible Quilt."
Harriet Powers, an African-American farm woman of Clark County, Georgia, created the Bible Quilt, which was first exhibited at the Athens Cotton Fair of 1886. The odd size and horizontal format suggest that it may have been intended as an expression of her deep religious faith rather than a functional bedcover. The eleven unevenly sized squares depict Bible scenes, and is a rare example of original design quilts for the era.
The original Bible Quilt is a national treasure, now owned by the Smithsonian, and is rarely displayed. In about 1994, American quilters were stunned to find that the Smithsonian had made a contract with Asian Pacific to have four of the quilts in their possession replicated in sweat shop factories in the Far East. A group, led by Karey Bresenham of Houston, went to Washington, D.C., to protest to a Congressional Committee. Bresenham and her group were able to prevent further contracts from being made, and suggested
that the quilt be reproduced in the United States by American women. Fabric companies in the United States were also licensed to reproduce the fabrics that were in the original quilt.
This is an authorized, numbered reproduction of the Bible Quilt, on loan from Janis RuBanes' personal collection.
The first square is the Garden of Eden with the serpant. Second is Eve becoming a mother. Third is the Devil with the Seven Stars.
Fourth (second row) is Cain killing Abel. Next is Cain going to Nod to get him a wife. Next is Jacob and the angel rising and descending on the ladder. Last one on the middle row is the baptism of Christ and the descent of the Holy Spirit as a dove.
Bottom row, left, is the crucifixion Second is Judas Iscariot and the thirty pieces of silver. Third is the Last Supper. Last is the history of the Holy Family.
(see
The Bible Quilt
for more information.)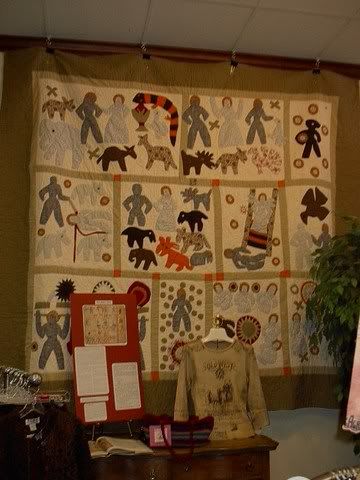 Here's a Victorian-era crazy quilt, created of velvets, silks and other costly fabrics of the day.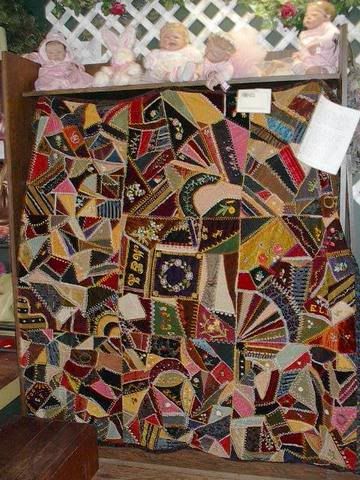 I stopped at Miss Lizzie's Bordello to purchase a few items -- a CD and a 1947 Encyclopedia of Housekeeping. Miss Lizzie's was genuinely a bordello in Oklahoma's Territorial days and did quite the booming business. The girls' bedrooms are now separate consignment gift shops and their names are painted over the doors. It's a great place. There are rumors of secret tunnels and bridges which allowed early politicians to enter and exit discreetly through the Blue Belle Saloon next door.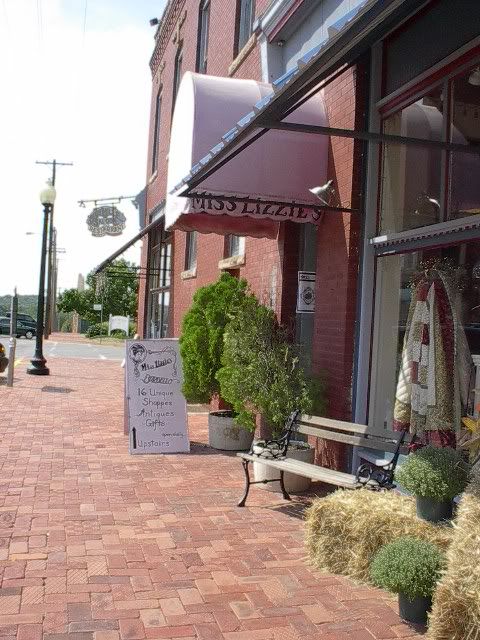 And here's the Blue Belle -- silent film actor Tom Mix worked here as a bartender before making his fortunes in Hollywood.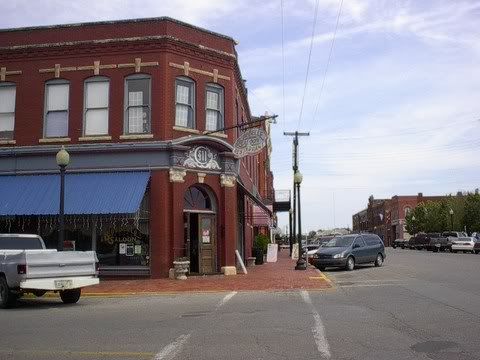 And here's a nice Victorian lady out for a Saturday stroll. You would not find her working in Miss Lizzie's.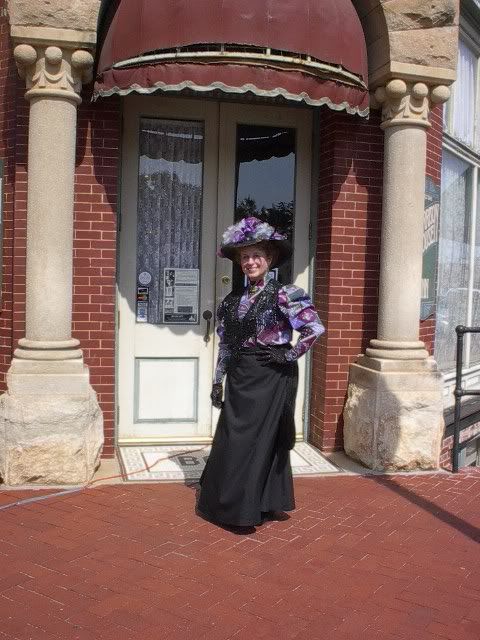 Here's where I had lunch, at Granny Had One. When this restaurant first opened, it was heavily decorated in primitives and antique kitchen gadgets -- basically anything the owners could find that was old. It's now a bit more refined. Lace curtains, the original wood floors, restored tin ceilings. It's a nice place.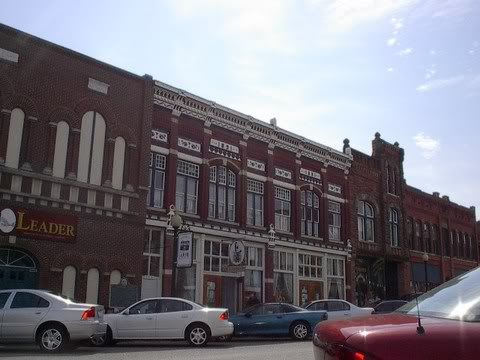 This is the Pollard Theater, a local community playhouse that attracts an audience from across the state. At Christmas, the theater presents "A Territorial Christmas" which is an adaptation of Dickens.
Time to go home now... it's been a nice day. We'll take a side street so you can see the brick streets. Many of our small towns still have the original brick streets from 100 years ago. I hope we can continue to preserve them -- there's just something special about being on a road that has lasted that long.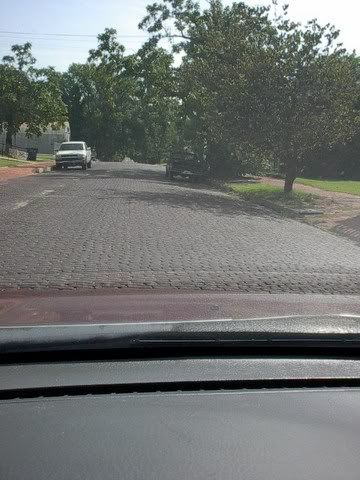 I hope you enjoyed the festival with me!