It has been noted that I haven't posted since Sunday. Oops! Well, yes, I've been tangled up in more yarn, working with a smaller pair of knitting needles than usual. A young lady from my church is getting married on Saturday and I've been working on some hand-knitted dish cloths as her present from me. I've got five done so far and if I have time I'd like to get another couple done. I'll tie them up with a ribbon and put them in a basket, if I can find one that I like.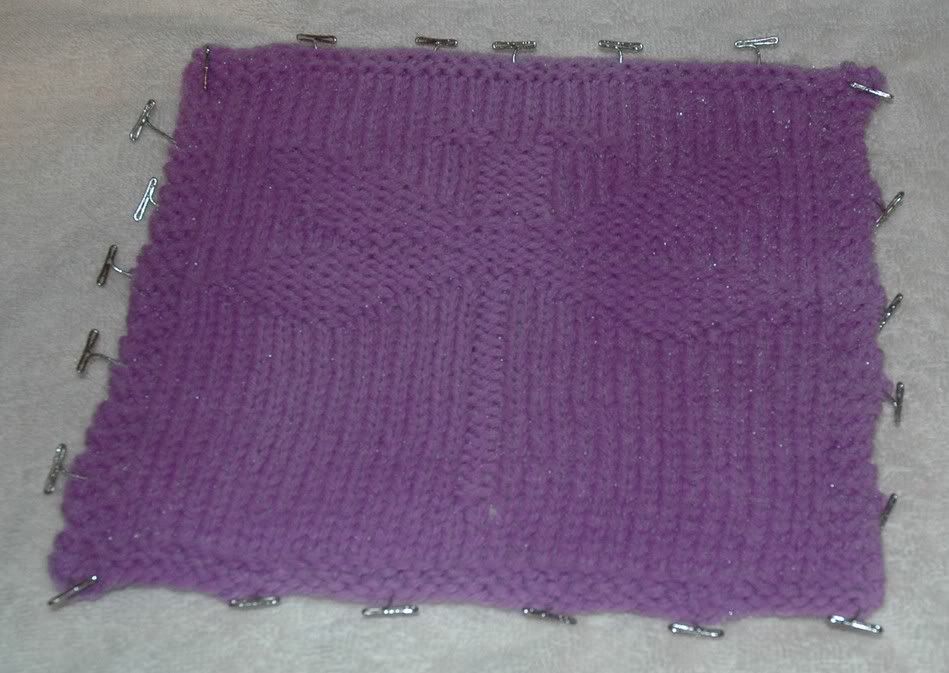 Anyway, I just finished knitting this one, a dragonfly. I hope you can see the patterns that are knitted into each. It's kind of hard to photograph the texture without going to greater pains than I'm willing to at the moment. Dragonfly is spending the night pinned to my ironing board. He's been sprayed with water. This process is called blocking, and helps stretch out the finished cloth to relax the yarn into its new shape. It also helps open up the stitches so the pattern shows better.
Here are the others: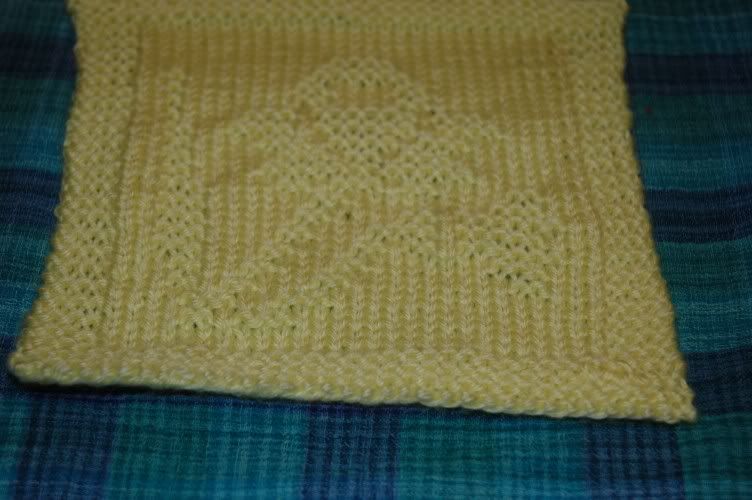 This is the hardest one for me to see, unless I hold the lower edge higher than the top edge. It is a daffodil. The leaf and stem are to the left. There is a large flower top center, and a smaller flower going to the lower right.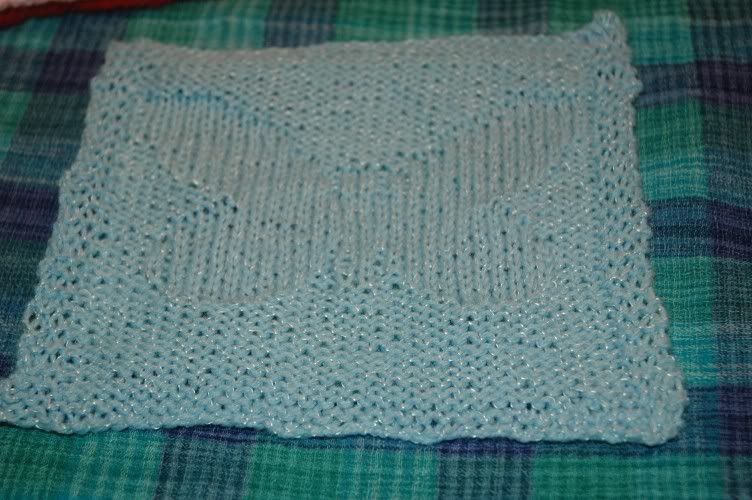 Here is a blue butterfly. He's a cute one.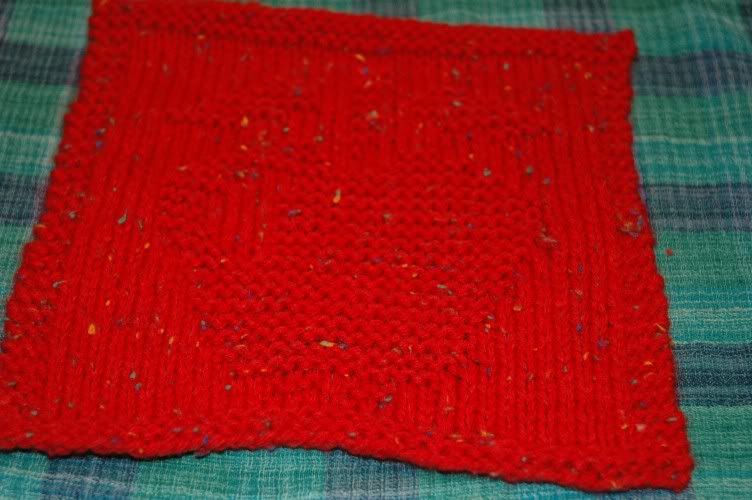 This one is a red apple. He may be hard to see since this is a flecked yarn. Looks pretty good in real life.
Without a doubt, this one is my very favorite. It's called "Little Houses." I call it "Little PINK Houses." There's a whole neighborhood here! I hope to find some other patterns that have this kind of open work. I think a lot of my friends are going to be getting "Little Pink Houses."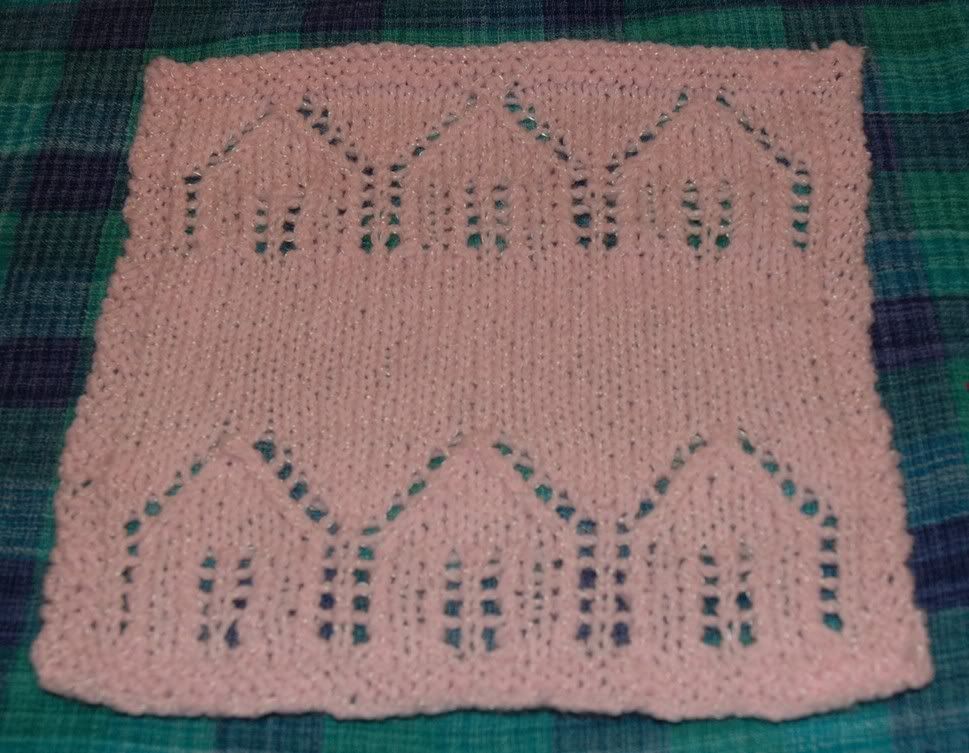 Anyway, that's what my hands have been doing while my brain has been spinning. A lot of negative, self-critical messages have been playing and I'm trying to fight off a substantial depression by keeping these things that I love close at hand.
I've also started working on my next prayer shawl. It's a dark blue. So far it's just over six inches, trying to get somewhere between 60 and 72 when finished. Usually it's good if they get to 60, but I'd like to make this one a little longer, and I have the extra yarn. It's great when I can buy out deeply discounted lots of yarn (60 percent off!) at the Hancock's Fabrics just a few blocks from my house. I can make a prayer shawl from three skeins, but I buy all they have if there are only four or five skeins left of a particular kind. 60 percent off!! Even broke me can manage to scrounge up a few bucks for that kind of bargain.
It's late ... I haven't been getting near enough sleep for the past few weeks, which is only compounding things on the dark side. So I'll bid you all a good night and ask that you all be blessed with a restful night.