Not what some of you may be thinking -- it's the fabric stash! Here's a photo I took last night which shows just a fraction of my stash: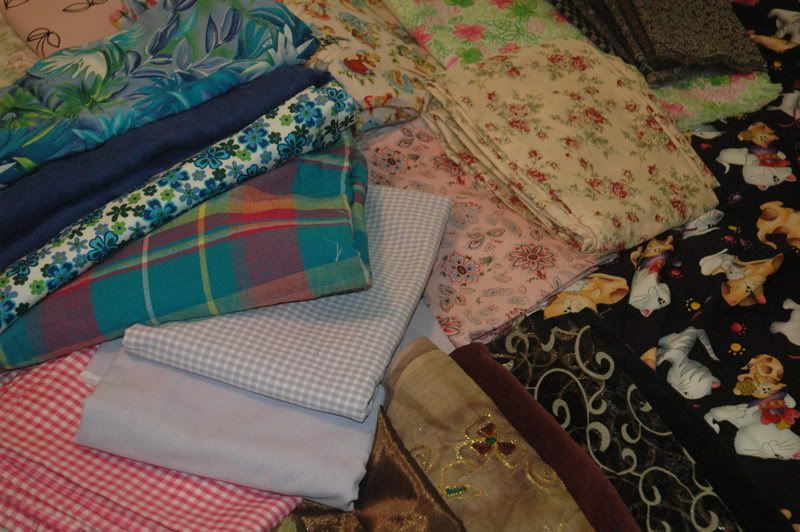 (click to see the full photo)
I also pulled out another big stack from a box still residing on my back porch. One piece was sadly sun-faded where the light has leaked in over the past year. I am hoping I can still use most of what was there.
Along with the fabrics I've rediscovered armloads of patterns for things never made (yet). I ache to do some sewing! Even if it's a simple skirt or a pillowcase for ConKerr Cancer (A Case for Smiles).
Since I'm in the midst of re-collecting and re-organizing my stash, however, I've not made it to the sewing process this weekend. It is unbelievable the things I own that I have forgotten about -- and the things I remember that I have not yet found again. I do not know which pain is worse.
I have an idea for a stash challenge, however. In addition to making pillowcases, I'm feeling impressed upon to issue myself a "100 skirt challenge" to make 100 skirts in various sizes for girls served by one of our church missions. I'd like to be able to do it with what I have in hand -- I think I could make a big dent in the project with what's in the pipeline.
I've read of another woman who did a "100 skirt challenge" like this. She paired the skirts with coordinating T-shirts in matching sizes to provide a complete outfit for each girl in her project group. I forget now who her beneficiary group was, but it was a children's home of some sort with her religious affiliation. It really doesn't matter because there is always, always a need somewhere for such kindnesses. Even if it's the local clothing closet for a public school, there is always a child in need somewhere nearby.
I remember so very, very clearly when I was in grade school. My sixth-grade teacher and the janitor's wife worked together to make sure everyone in our school had appropriate clothing to wear in order to attend. On top of that, my teacher and her sister made clothing for the Baptist Children's Home. Every morning before school she would make a dress for a girl. Every single dress she made was completely different from every other dress she made, so the girls wouldn't feel like they were just getting some mass-produced cookie-cutter outfit. They had different materials, different patterns, variations on the patterns and different trims. One dress, every morning, from each of the sisters. Imagine making nearly 400 dresses (maybe more -- in the summers they had more time for sewing!) each year to clothe a girl in need!
The thing is, they didn't stop with the girls. They also made shirts for the boys, back when boys wore woven shirts with buttons and collars.
What discipline -- and discipleship -- these women modeled.
More about ConKerr Cancer -- a Case for Smiles. This is a project in which the participants make pillow cases for children with cancer. Upon each child's admission -- every admission -- to the hospital for treatment, they are allowed to select a new pillowcase made by one of the volunteers in the project.
I started out as the state chairman for Oklahoma, but I am having to pass this responsibility on to someone else because of my difficult work schedule and my distance from Oklahoma City, where Children's Hospital is located. I've collected a lot of pillowcases locally, and several have been sent to me from people who aren't local who read about this project in a national sewing magazine or through Martha Stewart's show and magazine.
I have real mixed feelings about not working on this project. It needs to be run by someone with the time, as well as the desire. I have the desire but not the time. I can do my part by doing some sewing and preparation of pillowcases and by getting out of the way to allow someone else the blessing of coordinating the state program. I have two people in mind -- one in Oklahoma City and one in Tulsa. I am checking with the originator of the project to see if we can have two groups in Oklahoma, one in each of the metropolitan areas.
This project started with Cindy Kerr, whose son was a cancer patient. To learn more, please check this link:
ConKerr Cancer
A great, fun, colorful, cheerful pillowcase for a sick child is such a small, easy thing to provide. If you'd like more information, please feel free to leave a comment here if the linked site doesn't answer your questions. The reward for this is HUGE compared to the minor effort.
I'd also like to hear from you in the comments if you've got a project of your own that uses your creative gifts to help someone else. What are you inspired to do to make the world just that much better? Speak up! You never know what idea you might trigger for someone else!