There's so much to see and enjoy at Arts Festival Oklahoma at Oklahoma City Community College. I talked to several of the artists and was surprised to learn that for most of them, their art was a second career. For decades they had worked at other jobs before taking up their various media. Most have only been artists for a few years -- most for less than six years. If they had worked previously in art, they learned a new medium that brought them a sense of renewal and new energy. Many were more than willing to offer to teach others.
The festival continues through Monday at Oklahoma City Community College, Interstate 44 and SW 74 (or Interstate 240 and May Avenue.) Parking is $3 and there are several drink and food wagons of the festival type. Another great thing about this festival is that the sponsors have not imposed the ridiculous "no outside food or drink" rule. Prices are reasonable ($5 for a chopped brisket sandwich, for example) but no one will stop you from bringing your own (non-alcoholic) drink. Many people came with their children in strollers, and many dogs attended, on leashes.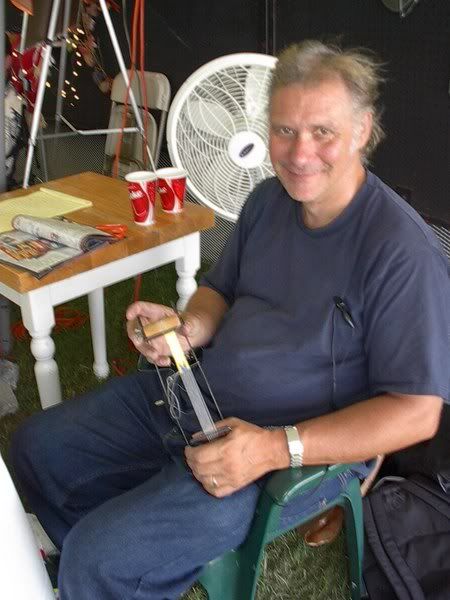 Hand beading on a small loom. This man was working in a booth operated by Bill English, a stained glass artist from Edmond with a studio called Glass In Stone. English said he hopes to teach in his studio sometime after Christmas. (405) 473-6047.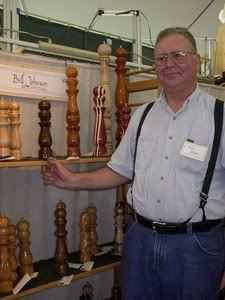 Bill Johnson of Sylvan Croft Woodworks, 7900 E Rock Creek Road, Norman, shows some of the handcrafted salt shakers and pepper mills he has made. Johnson uses several types of exotic wood. The purple and white mills are made with purpleheart, a very hard wood from South America. When Johnson retired six years ago, he had never used a lathe. (405) 329-6668; sylvancroftwoodworks.com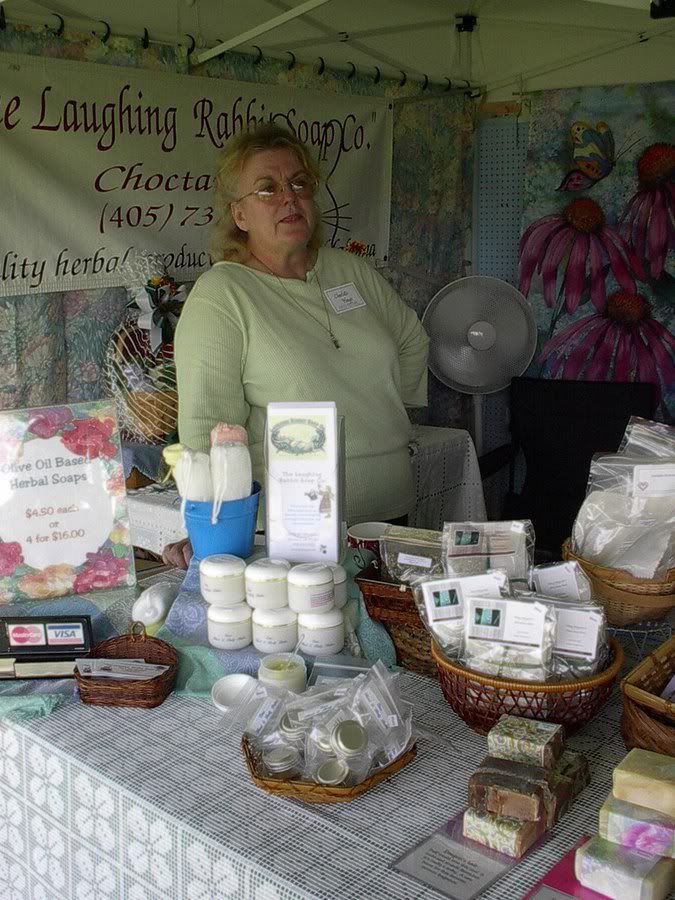 The Laughing Rabbit Soap Company is one of several niche companies in the Choctaw, OK, area working with herbs and other botanicals. They make their soaps in 20-lb. batches to maintain quality. Since the soap retains so much of the glycerin created in the soapmaking process, it is a very moisturizing soap. The company also has bath accessories and aromatherapy products. The owners teach soapmaking classes through a local community program. (405) 737-7413 12732 SE 38th Street, Choctaw, OK 73020 www.lrsoaps.com
Sea Sculptures by Ken Pryor are made from exotic hardwoods. (405) 682-5698.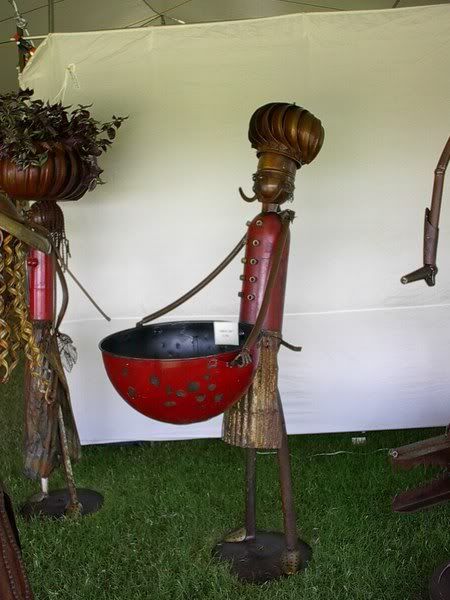 Kettle man does the Labor Day cooking.
Extreme whimsy sums up the metal art of Freeman Loughridge of Funksculp, "Sublimely Ridiculous Stuff." Loughridge, of Ardmore, collects unique pieces of aged metal to combine into art pieces with personality. Loughridge said he'll seek out individual pieces that aren't necessarily useful to anyone else -- he'll take stray claw feet from old bathtubs but will leave complete sets of four for people who may want to restore an old tub. Among his pieces are "Victoria," an unusual metallic portrait; "Cranking Out the Offspring," and "Getting Ready to Hang 10," both of which are a tongue-in-cheek look at the traditional roles of women. P.O. Box 603, Ardmore, OK 73402 (580) 504-5058 www. funksculp.com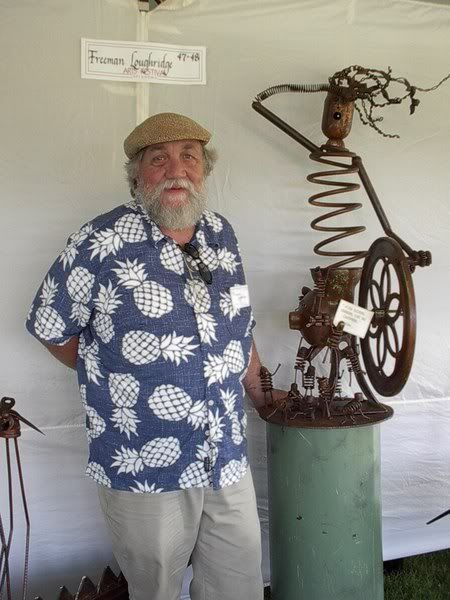 The artist with "Cranking Out the Offspring." The piece combines an old coffee grinder with an assortment of springs.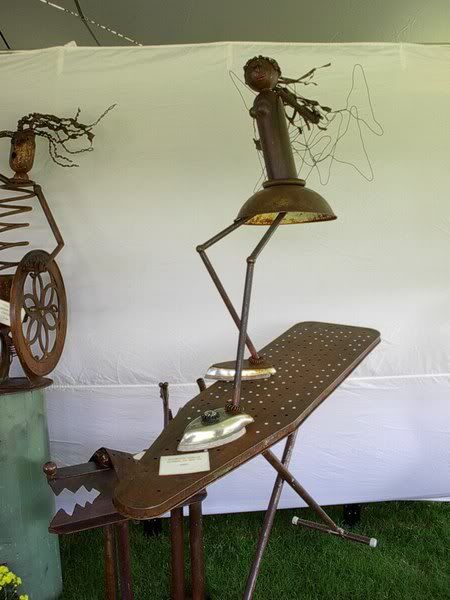 "Getting Ready to Hang 10" -- count the hangers streaming behind the woman's figure.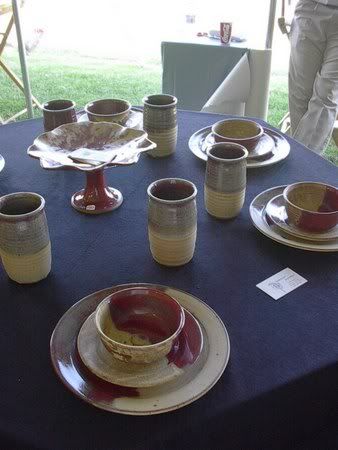 Warm, rustic colors create beautiful place settings in pottery created by Bentley Pottery. The collection also includes serving and cooking pieces as well as gardening pots. Dustin Bentley, Route 1, Box 98, Goodwell, OK 73939 (580) 349-3250.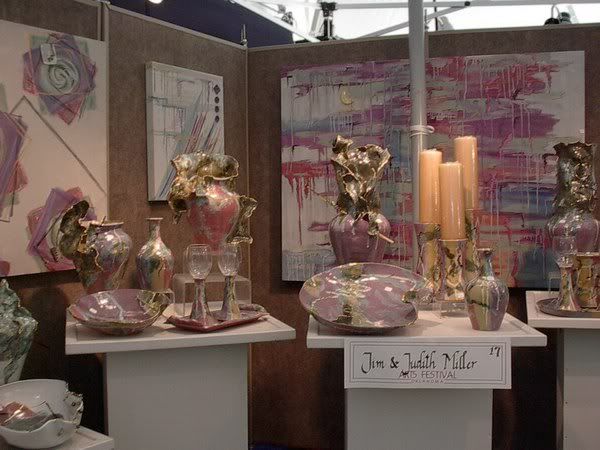 Former art teacher Jim Miller and his wife, Judith, use a three-step firing process to add a thin band of gold to their earthenware pieces. They also use small three-dimensional pieces in their painting and create designer jewelry. Miller said he was a potter for 30 years before adding other techniques to his work. Blue House Pottery, 205 17th Ave. South, Clear Lake, Iowa 50428 (641) 357-3490
www.bluehousepottery.com