** Click on the pictures to see the full frame.**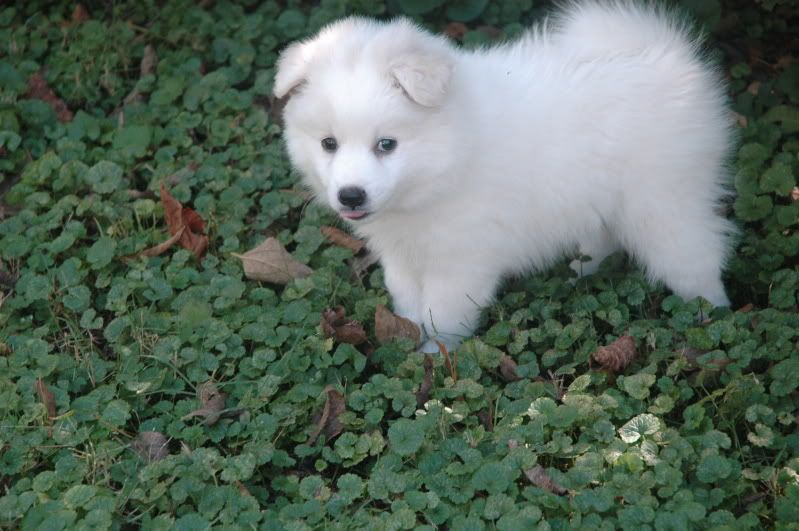 Baby Bernie
I forgot today's "Bernie" story!
This morning I let him in after his morning outside time. I was dressed but still had time to spend a few minutes with him, which usually involves me chasing him around the house, trying to get him into his crate.
Well, he was a pretty muddy mess this morning and I was trying to keep him off the furniture, with little success. A couple of muddy swipes on my sofa (NO! NO!)
and a pounce on me -- leaving my cute turquoise shirt and black jeans covered with muddy pawprints, dang it!
As I was assessing the damage and mentally trying to picture what I would change into, Bernie brought me his leash! Yes! All by himself he got it off the doorknob. Of course, in his excitement to bring it to me, he somehow managed to wrap it around his tail and I nearly choked laughing at his dismay at leading himself around backwards.
I couldn't resist his request, and since I did have a little time, we walked to the end of the block (a double block) and back. It made me realize how negligent I've been in continuing that portion of his training. We do really well with our morning exercises of "Sit" "shake" and "down," and he is very good riding in the car, but walking on leash we've neglected. (Bad mommy!)
We'll start working on that with some regularity. He did do well with sitting on demand during the walk, but he was pulling too hard to lead me, rather than heeling. Of course I did not have the advantage of putting on h is pinch collar so I didn't have full control with just his regular collar. It's a fingerbreaking exercise to put on the pinch collar and takes far more time than I had this morning. I think that will be reserved for evening walks until we get back into the groove.
Not sure when the fall dog training classes begin, but we will be there faithfully again. Bernie is a quick learner and very smart. He just needs more consistent direction and stimulation, so I better get my act together.
I think it's also time to schedule him for his first grooming appointment. He could use a good bath, and although I could do that, I also want to get his nails clipped and get a couple of matted areas trimmed. I'm very lucky that mats are few and far between with his type of coat, which is more like hair than fur, for the most part. I miss his puppy softness, but it's still on his face and head. I hope he will be soft again when his winter coat comes back in. His summer coat is still beautiful, with swirling curls parting across his back.
Well, he's now asleep in his crate and I should soon be asleep in my bed. He likes to wake me up about 5:30 which is so inconvenient and annoying, since my alarm is set for 7 a.m. Maybe I'll get him a watch to celebrate his first birthday, which was Tuesday. My boy is a whole year old!
Big Boy Bernie