AS you'll notice in my profile, I am a domestic goddess.
Seriously, stop laughing. I use the title with pride.
It doesn't mean I've molded my life after Martha Stewart, although she was an inspiration back in her earlier days, long before she ran afoul of stock trading regulations. There was a time when her lifestyle was manageable and admirable. She could demonstrate how to make a great pie crust in the food processor in seconds. Later on, her vocabulary came to include the ubiquitous "beautiful" and "perfect."
That was about the time I tired of the pretentiousness and moved on to find others who modeled the life I aspired to. There are plenty -- Ina Garten, known also as the Barefoot Contessa, is a queen of hospitality. Paula Deen rebuilt her life by opening a restaurant, The Lady and Sons, to support her sons. Recently she has found love anew, which has only served to deepen the genuine loving qualities of sharing food with friends and loved ones.
Wearing an apron is a symbol of servanthood. It says "I accept the directive from Jesus when He said 'Feed My sheep.' What modern custom could be more representative of Holy Communion than cooking for and serving loved ones in your home?
As for learning about creating a lovely home, one of my icons is Alexandra Stoddard, author, speaker and former host of HGTV's "Homes Across America." Such a gracious woman, with an equally thoughtful husband. At book signings she scribes personal messages and gives the gift of a ribbon book mark. She demonstrates rare respect for etiquette by following up interviews with personally hand-written notes to reporters, recalling distinct moments from the time spent together.
There are so many examples of women (primarily) who espouse an elegant lifestyle. I can't possibly mention all of my influences here, so perhaps there will be more entries as time goes by.
The warm, loving home that I wish to maintain for myself and my friends and loved ones has evolved over the years. Those who have known me for a long time know I was a huge slob, lost in the kitchen, unwilling to invite people into my home. I'd cringe at the thought of making dinner for anyone! I realize now what sad times those were for me, for a variety of reasons. That's for another discussion, however.
Today's point is that I knew I aspired to live a welcoming lifestyle. I think I am on my way to achieving it.
I found my greatest mentor, Flylady, online.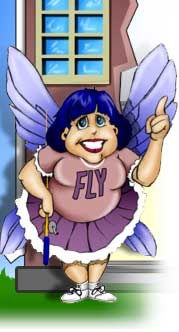 Flylady, AKA Marla Cilley, describes herself as "Tinkerbell's drill sergeant."
Her no-nonsense style of e-mail mentoring now reaches more than 235,000 people every day. There were about 1,500 subscribers when I joined her group. She mentors a system of rotational house keeping with brief reminders about daily tasks, weekly chores, monthly jobs. There are other parts of the system, which can bring peace to the home when used as a whole. Check out her web site, linked at the left.
It's still one of my great honors to know that I was the first newspaper reporter to interview Cilley. We've maintained contact since then, and finally met in person a couple of years ago at an Oregon conference held by Pam Young and Peggy Jones, the SLOB Sisters. They are the true mothers of the housekeeping methods Flylady mentors, and so they have a position in my heart equivalent to the Queen Mothers. Their view of life from the window of Everywoman, coupled with their humorous and honest writing style, have made them well loved by countless families. (See the link to their SHE web site -- SHE standing for Sidetracked Home Executives.)
Inspiration is a wonderful thing, and as you can see comes from countless sources. But without that inner spark and yearning for a meaningful life, the inspiration would have no effect and change would never be ignited.
In the years I've pursued this, consciously, I hope I've created a home where my friends like to gather. It seems they do. I've come to love having dinner parties, choir parties with lots of music, even planning sessions for church committees. There's rarely a wrong reason to get together and share food, music, conversation.
Next party: Harvest Moon at the end of September. Let's hope the back yard is ready in time!