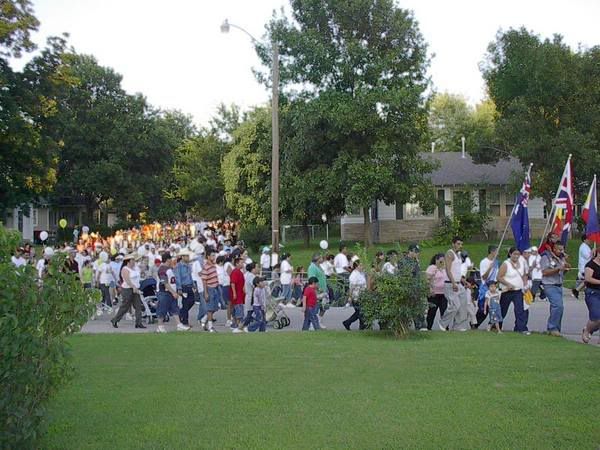 Copyright
2004. All rights reserved.
I was watching a movie with a friend in Tulsa on a recent Sunday night when we heard music, growing increasingly louder. At first I thought it was someone's boom box, but soon it was clearly not that. I looked out the front door to see a parade going past his house, in an older residential area.
Several thousand people were involved, all celebrating the dedication of a replica of a holy icon and a Mass at the Expo Square Pavilion. They marched from the pavilion to St. Francis Xavier Catholic Church, which was dedicated as a shrine to Our Lady of Guadalupe.
The crowd was mostly Hispanic, but there were several participants wearing native Indian tribal dress. People carried flags, banners of flowers, crosses and a platform with the icon.
For me, it was a rare moment of serendipity. I'm not Catholic, but the celebration of faith was an inspiration for all who saw it. How often do we see such a parade going down our streets?