There are several ways of getting to the farm from OKC. This time I took the Kansas Turnpike to Bonner Springs, then went up through Lansing and Leavenworth, Kansas. I kind of wanted to take the old way in so I could go "Over the River and Through the Woods." Oh yeah, I picked this particular spot because it fits the bill, but there is another "extra" reason...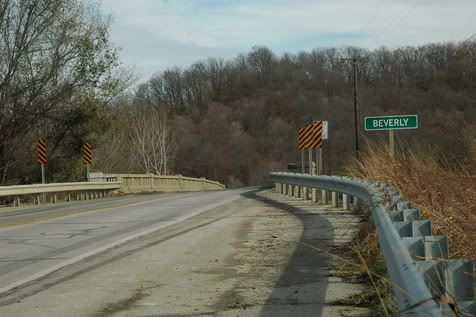 Beverly had postal service from 1946 to 1960. Now, there's one antique store there and another business that changes often. I think it was a bar this time, but I can't remember for sure.
It's located at the intersection of the Chicago, Rock Island, & Pacific R. R., and the Kansas City, St. Joseph & Council Bluffs R. R. It is six miles west of Platte City, where residents now have to go to vote. It's classified as a "hamlet." Cool. I like being named for a hamlet. I don't think anyone lives in Beverly any more. Platte City actually claims the antique store. To give you an idea about the size of the area, Platte City (the "big" place in this whole area) has a population of 3,700. Camden Point, where my family is centered, has 343 residents. Platte City's claim to fame is its courthouse, built in 1866. Bonnie and Clyde were convicted there in 1933 after a bar gunfight.
There's some powerful interesting history in this area from the Civil War. But that's all for another time, in another format.