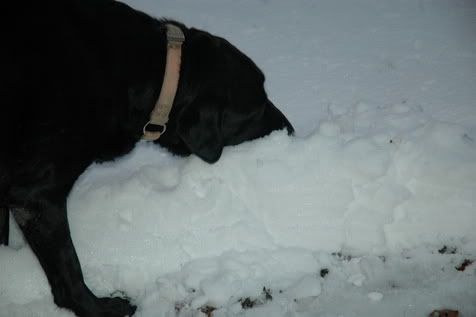 When I awoke Wednesday morning, there was no rain. It was a beautiful, crisp, sunny morning, with 7 inches of snow on the ground that fell between 1 and 7 a.m. Here's Buck, (all 125 pounds of him) eating a big face-full of snow at my aunt and uncle's house.
My cousin and her husband and I had stayed at a motel in the next tiny town from the family farm, about 9 miles away, and drove back to my aunt and uncle's house on gravel country roads. It wasn't too bad, but we were all taken by surprise. The power had gone off at their house for several hours during the night. But we enjoyed the beautiful, quiet serenity of the snow-covered country and took advantage of the moment to shoot Christmas card photos. Each year of their marriage, my cousin and her husband have had a photo taken together to send out. If you promise not to tell, I'll show you the one I took for them this year. If you get one in the mail, act surprised, OK?
We had a hectic day Wed-nesday, and I wasn't able to get away to shoot some beautiful snow pictures like I wanted to. But at the end of the day, I was outside getting a breather just as the moon was rising over the east field. I was happy.