Reading is one of the most important skills we adults can share with children. I was blessed beyond measure as a child to have a great aunt who was a librarian in a small-town Missouri library.
Every time the library discarded books, I could count on getting one, two or three large boxes of books from BoBo (her given name being Beulah, no child in the family ever knew her as anything but BoBo.)
These books were extreme treasures to me. At the age of 3 or 4 BoBo and my grandparents came to visit, trunk filled with book boxes. I remember naught about that visit but unpacking the boxes, laying the books side by side on the floor and then rolling myself all over them, absorbing the smell, the textures, the personalities of the books.
Many were the well-made, hand-stitched children's books of the 1930s and 1940s, complete with lithographs illustrating the stories within. Having them in my home was like being fed a drug. I was instantly pacified and spent hours under their spell, often falling asleep and continuing the stories in my dreams.
Today I had the immense pleasure of meeting a young child who is obviously a devoted reader already. I'm volunteering in Project Transformation for four mornings this week, helping children read. This girl was so impressive I had to double-check her records to make sure I had the right girl.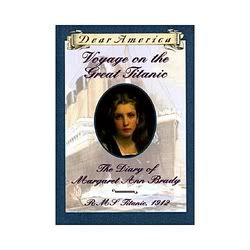 She picked a book she thought looked interesting and off we went to the corner of a church nursery to sit for a half hour, with her reading aloud to me. The book she chose was "Dear America: Voyage on the Great Titanic" by Ellen Emerson White.
The story starts in an English girls' orphanage, run by Catholic nuns. The vocabulary is rich -- no dumbing it down to make it easy. Kids who read this book, especially young readers, should expect to grow their new words list.
My young reader zipped through the first two chapters with ease. The only word I had to explain was "chaparone" -- as much for the concept as the difficulty of the word itself.
Oh, perhaps I should explain one other important detail: My little reader was 6 years old, GOING INTO first grade. I asked her if she's been reading for a long time.
"Oh yes," she responded casually. "My mom handed me some good books when I was 4 and I've been reading ever since."
That long, eh?
I can tell, without even meeting her mother, that reading is an important part of their family life. Skills such as hers don't develop without nurture.
The School Library Journal rates this book for grades 4-8.
Her mother (and father, perhaps?) should be very proud. I know she is, but at 6 she doesn't realize how unusual it is to read books at that level. It was a real treat for me.