It's been quite some time since I went to Bricktown to eat dinner. As a matter of fact, I've only tried a few of the restaurants there -- Spaghetti Warehouse, which I believe was the first to open there, many long years ago; Chileno's, still my favorite branch of that chain; Abuelo's, a lovely restaurant right across the street from Chileno's. I can't remember frequenting any other eateries. Maybe a bar or two when I had out-of-town company.
But on my weekend excursion, I discovered a whole NEW world of wonderful places that will demand my attention in the near future. How have I managed to remain blind to them for so long??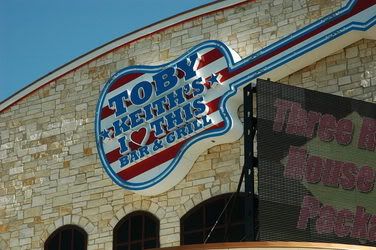 Opening NOW is Toby Keith's new place, complete with its own amphitheater for live performances. Toby's in town for the opening and word is we should expect him to be around often. No surprise; the singer is from nearby Moore, and he's got some major real estate development deals going on locally with some other local bigwigs. It will be fun to hear some live music of Toby's caliber, but I expect the place to be so packed for a while that I'll probably hold off on going there.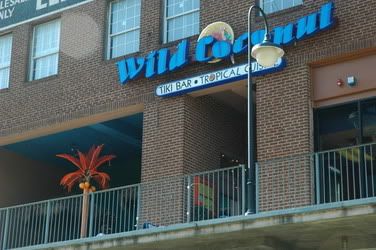 The Wild Coconut is located in the old Hunzicker Electric Supply Co. building. Hey, I don't know about you, but any place with an orange palm tree is worth checking out in my opinion!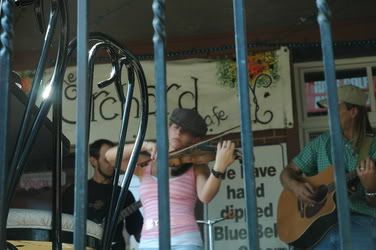 Speaking of live music, this was a great treat. The Orchard Cafe had several performers on the patio while I was touring Bricktown. This trio was my fave -- amplified acoustic instruments playing classical and I believe a bit of New Age thrown in. Lovely, simply lovely. This girl on the violin is an amazing talent and the guys behind her let her shine. I don't know about the food or drink, but the patrons were certainly happy.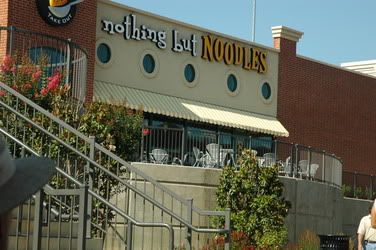 Need a noodle? They've got some. Haven't tried this place myself, but a family on the water taxi I was riding in asked the captain to stop and let them disboard here. He was happy to accommodate. They are true ambassadors of the district, doing whatever they can to make visits to Bricktown enjoyable and memorable. Spend the $6 and take a ride!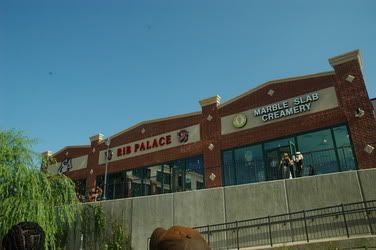 Life is good if you can get to Earl's Rib Palace. And at the Bricktown location, it's right next to Marble Slab Creamery. See a brainstorm here? Spice 'em up with 'cue and send 'em to the slab to cool down! Ingenious marketing plan. Both places were packed on my visit and I will be a return customer, no doubts. Just the right location for dinner and a ballgame. But you could say that about any of the Bricktown restaurants.
Many of the restaurants are in two- or three-story buildings, so there are multiple layers of fine feasting. Here's the Bourbon Street Cafe and Daddy Hinkle's Steak House. (Note to self: Put these on the "taste test short list.") Right close is another place called the Laughing Fish. Who could ignore a name like that?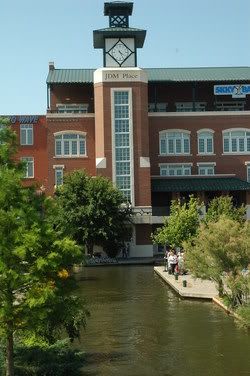 For a high-dollar, special occasion celebration, take a look at Mickey Mantle's namesake. It's at 7 Mickey Mantle Drive (7 being Mickey's number; it's also positioned right across the street from the third base gate of the Bricktown Ballpark, where Mickey's statue stands.) The captain of my water taxi said dinner runs about $45 to $50 per person. Your mileage may vary.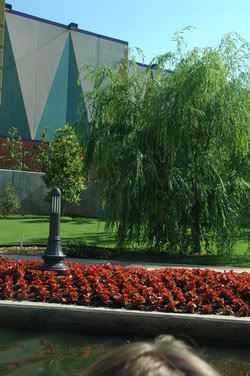 Maybe you want to catch dinner and a movie, or maybe you just want some popcorn to go with your Batman. Check out Bricktown's new theater, The Harkins. It has the largest non-Imax screen in Oklahoma. It's in the chain's second Cine Capri, a 600-seat auditorium featuring a 70-foot-high screen and 40,000 watts of sound delivered through 150 speakers. (This whole wall is a theater screen.) The multiplex cinema has 16 theaters in all.
Something to think about: Almost all that I have shown you is new, completed within the past year and a half or less. Money is pumping through our economy again, and with that comes more money -- from tourists and residents alike -- who have some outstanding places to enjoy during their leisure time here.
We'll continue the tour another day. Meanwhile, if you can't find something to satisfy your appetite in Bricktown, you just aren't trying! Bon appetit!