I hope J.T. does not mind too much if I post a couple of photos of his recognition of orders last night at our church conference's annual conference. This is the ceremony where ministers are ordained. J.T.'s finally been received as an elder in the United Methodist church after having served in another denomination. This has been a long time coming and is well worth celebrating. I'm so proud of him for going through years of preparation for this time!
Here he is being charged by the bishop to take authority as an elder in the Church to preach the Word of God and to administer the Sacraments in the name of the Father, and of the Son, and of the Holy Spirit. Amen.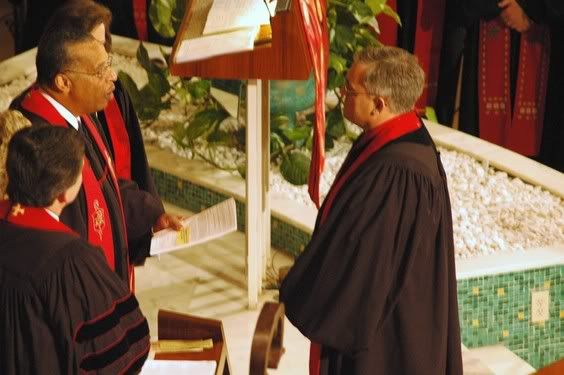 And here we are at the reception celebrating his calling to be among us in ministry. That's me in the pink top next to him.