This is a quiz that will only be fair to native Oklahomans who have lived in the Oklahoma City TV market for a few decades.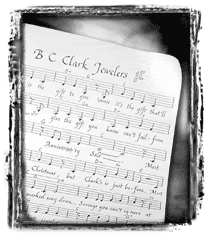 Today's quiz concerns Oklahoma's "official" Christmas carol, the B.C. Clark jingle.
For those two of you who don't know, B.C. Clark is a venerable family jeweler that has been in Oklahoma since territorial days, long before statehood -- since 1892, to be exact. That's one of the great lines from the jingle.
Copies of the jingle, printed on a pale blue parchment paper, are available for the asking at any of the B.C. Clark's stores. I got several copies one year at the Penn Square store to take to a choir Christmas party for grins. We had a blast!
You can hear the jingle at this link:
B.C. Clark jingle
where you can also download a copy of the sheet music (if you don't feel like braving the crowds on Christmas eve. And I don't know anyone who would do that just for a song.)
Here are the words, not quite as prettily typeset as the B.C. Clark official version:
Jewelry is the gift to give,
'cause it's the gift that'll live and live.
So give the gift you know can't fail
From B.C. Clark's anniversary sale.
Most sales are after Christmas
But Clark's is just before.
'Most everything is marked way down,
Savings you can't ignore
At Oklahoma's oldest jewelers,
Since 1892.
So give the gift you know can't fail
From B.C. Clark's anniversary sale.
That's the jingle in its current entirity. Now, back to the quiz.
Q: One line was cut in 1977. What was it?
Background: As originally taped, the jingle ran 35 seconds. Most TV commercials were 60 seconds long at that time, so the jewelers had plenty of time to show products and make pitches to viewers. However, in 1977, standard commercials were cut to 30 seconds. With it went part of the jingle, which became background music for the visuals.
B.C. Clark Jewelers started running the jingle in 1956. At 48 years old, it is the oldest continuously used Christmas jingle in the country. Traditionally it is aired each year for the first time during the 10 p.m. news on Thanksgiving night. Then on the Friday after Thanksgiving, tradition is to tape members of the public singing the jingle at the Penn Square store. They tape for hours and the advertising agency cuts the tape down to commercial lengths to use during the season. It's a lot of fun to hear how badly many people sing. I think this also may have been the forerunner to karaoke.
OK, so what's your answer? Do you know the missing line? I'll post it... later. NO CHEATING ALLOWED.