Hello everyone! I'm finally feeling better enough to get out and take some photos. Maybe someone will post if I throw some pictures on here again. It's getting DAMNED lonely around here, so post if you stop by just so I can see if you're breathing.
I started the journey on Saturday and my camera batteries died before I got to my destination. So this is a two-part adventure interrupted by a recharging.
Let's head west on Route 66: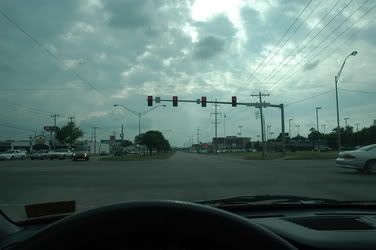 Just outside Bethany, on the way to Yukon, is this old bridge at Lake Overholser. I didn't linger here as a fisherman had his pit bull tied to the back of his pickup and said dog was not happy with me being close.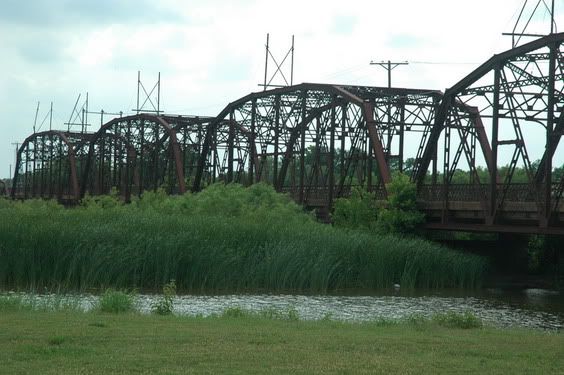 So let's head across the bridge, shall we?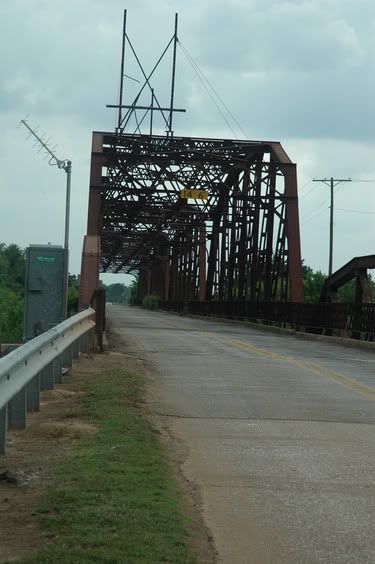 Here's an original strip of Old Route 66, the Mother Road. Can you believe people used to drive from Chicago to California on this narrow two-lane road? And they were thrilled to have it!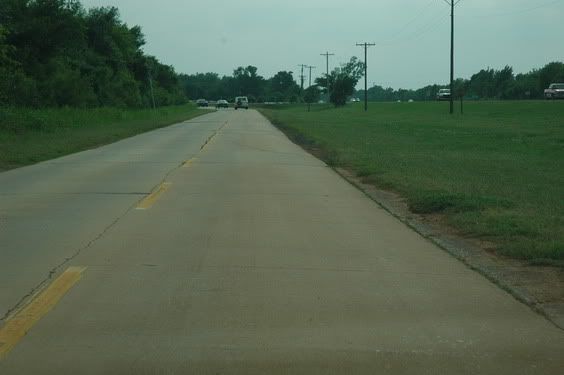 We get to Yukon. Home of Garth Brooks. See? They wanted you to know that so they put up a sign: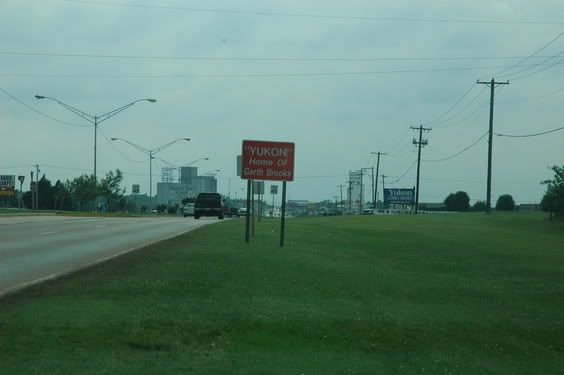 (P.S., I think it is also home of "Darth Brooks" ... I saw him... )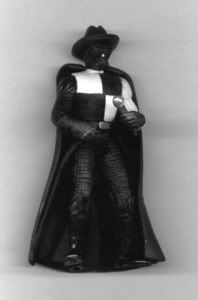 Let's stop for a drink. I expect we'll be riding for quite a while.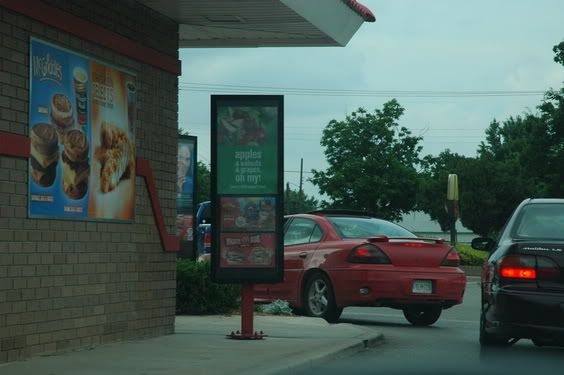 Yukon is home to this (and other) grain elevators. This one is owned by "Yukon's Best" flour mill. I've never seen any of "Yukon's Best." But this is a neat looking elevator by elevator standards.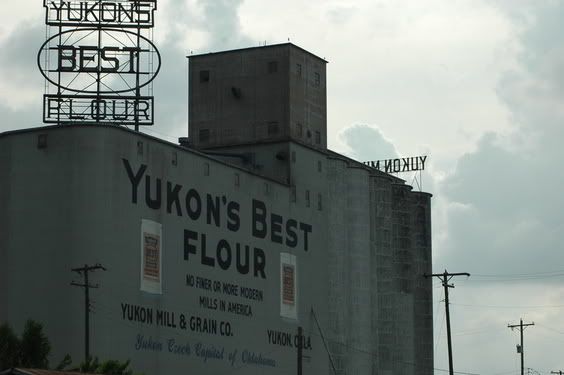 Yukon also was one of the points on the Chisholm Trail, so there's a mural to commemorate that time in history, when cattle were driven to market in Kansas City.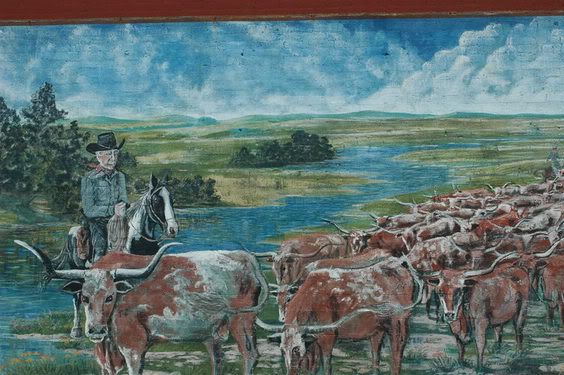 Let's keep going to El Reno, OK? It's a good evening for a drive. One of the interesting things in El Reno is the Elks Lodge. It was the building that housed pre-statehood Oklahoma's exhibit in the 1904 World's Fair in St. Louis. It was moved to El Reno after the Expo closed.
Today: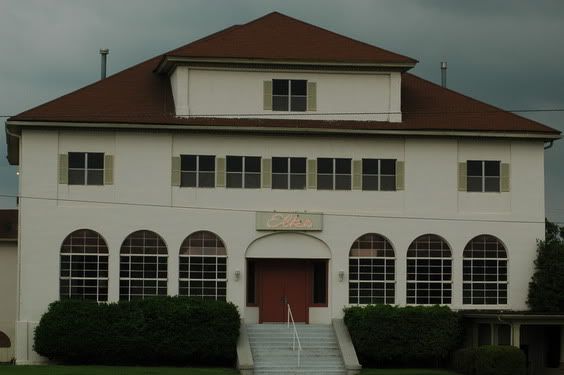 And in St. Louis in 1904: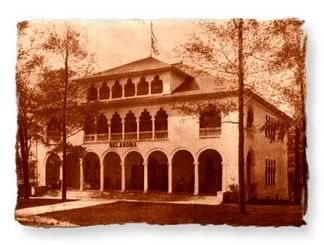 OoopS! This is where the batteries ran out. Let's go home. We'll come back tomorrow.
OK, so we pick up Sunday on the north side of El Reno.
Wheat harvest is in full swing in the state, as combines chomp their way from south to north. Harvesters are about ready to get into this field. See how they're lined up, with the wheat truck on the right? On your mark, get set ... GO! (Make sure you go around that oil rig!)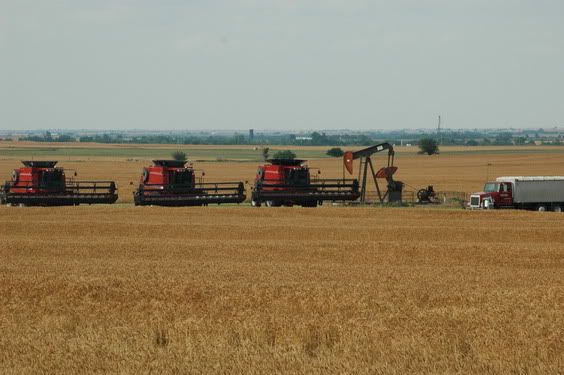 Two things you'll be sure to see in Oklahoma are oil rigs and big round bales of hay.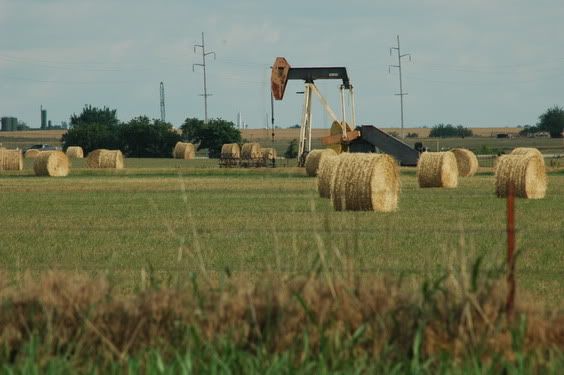 We're very much an agricultural state, with farms and ranches. And we have barns. This farm had two red barns, but this was the older one and I liked it best.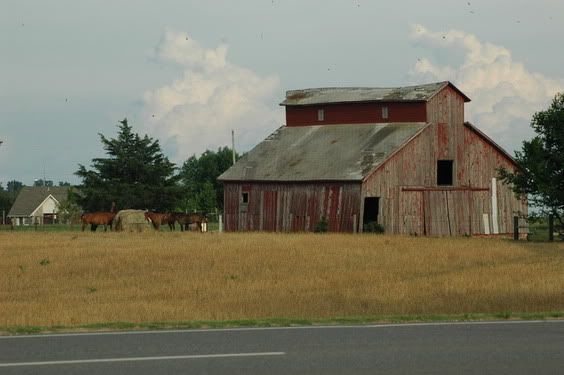 We have cattle -- small herds and large. This is a bull testing station at one of the state's largest ranches. Nothing between me and the boys but a cattle guard across the road. They didn't care if I was there or not.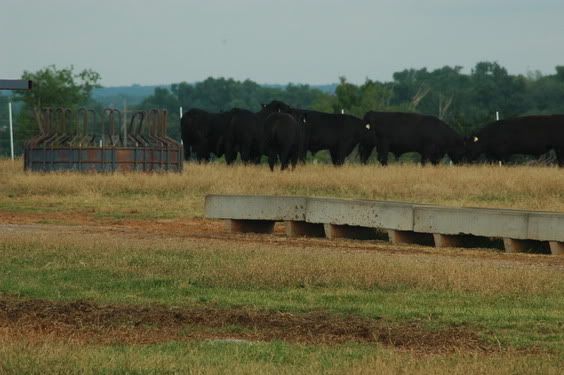 Lest you have any doubt that I mean "LARGE" ranch, this is the ranch headquarters, and I'm about half a mile back. This is a BIG place.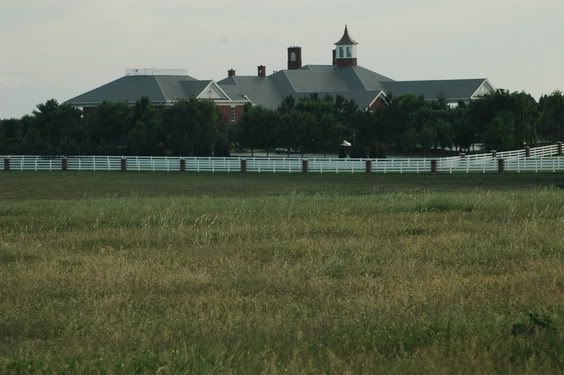 Another part of the ranch is home to 14 Clydesdales. I love going out to see them but I missed visiting hours today. No problem. The girl tending the horses this evening invited me to hop the fence and come on in to take photos up close. I was over that rail fence in no time flat, I guarantee. I loved this photo of her leading one of the horses out to stretch his legs while she mucked out the stalls inside the barn. He looks like he's wearing a Little Richard wig.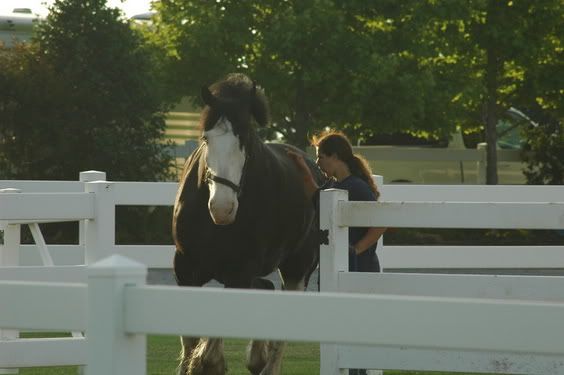 Oh he feels gooooood today.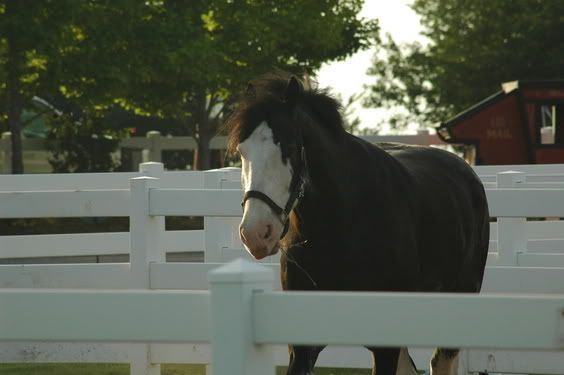 I took tons more photos of the ranch but I won't bore you with all of them. This dalmatian was right at home with her horses, though. That's a statue behind her, not a real horse about to stomp on her.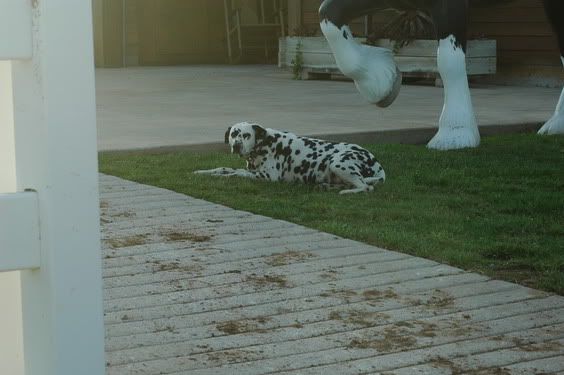 One more critter we have to visit before we leave the ranch. Let's drive over to his house...
Here he is now. He has his own brick house out in front of the main ranch headquarters. It even has columns, but I didn't get them in the photo. He was hiding inside in the dark after he saw me peering through the fence. He was camera shy, but finally that itch got to be too much and this was the only way he could scratch it.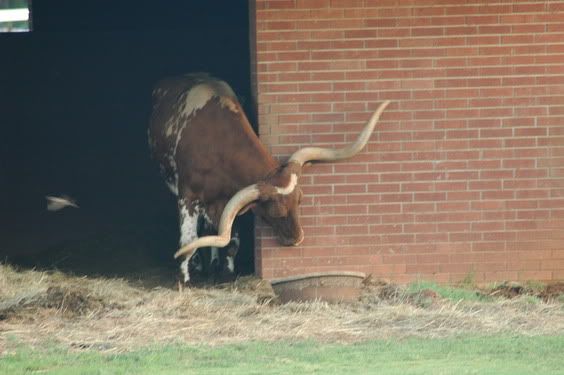 While he was poking his head out, I asked him if he'd show me his pretty horns. He said "I guess."
It's almost sunset. Let's head up to Lake Hefner and see if there any boats out.
Well, the sun just went behind the clouds on the horizon, so it'll be dark in a minute. This is all I had time to shoot at the lake, but I thought it was interesting anyway for a quick photo. Driftwood on the riprap.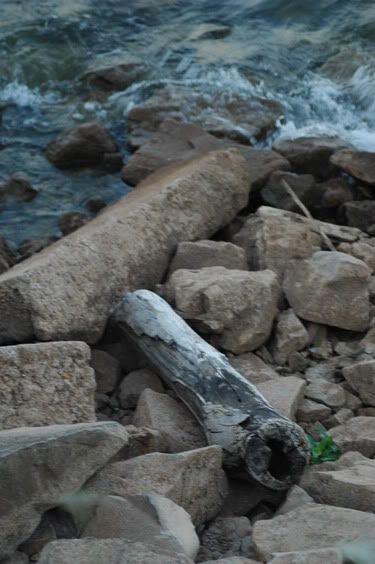 I hope you enjoyed today's journey, and yesterday's attempt. I am hoping to go a different direction on Monday, so stay tuned for another episode!