My church has had a teddy bear ministry for the past five months or so. Each month we get a new batch of stuffed animals which sit in our church services for a month. They "listen" to the songs and the prayers and the sermons, and then we donate them to the Highway Patrol to be given to children in distress to help provide them comfort. They have little tags on them telling them where they came from.
It's amazing to me that after all these months we all still enjoy having the bears with us in service. You'll find little old ladies, big ol' bubbas and little kids all cuddling them during church, trying to fill them up with lots of love.
I think it's working. After church this morning I found this little band sitting behind in one of the pews singing together…
Here's a bonus photo just because I think it's pretty neat. We have communion the first Sunday of each month and the kids in our congregation take part in it. Another tradition we have as we gather at the communion rail is that the next group waiting to take communion surrounds those at the rail, laying their hands on their shoulder to pray for them. These little kids really get into it, both giving and receiving.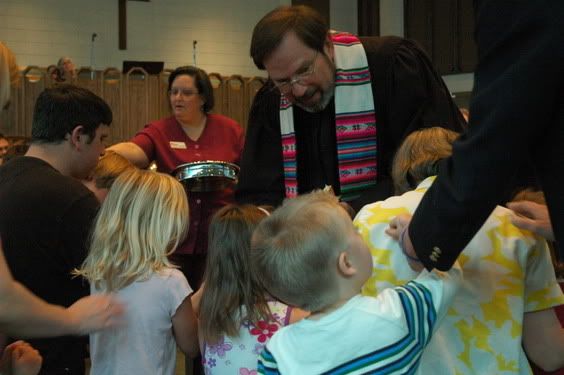 Oh, in case you are wondering why I would take photos during a church service, well, it was for a slide show I prepared for our annual chili cookoff tonight. Each year we welcome all the new members to the cookoff so they can be recognized and honored -- the slide show was a new idea to help them spot familiar faces and activities. The older members also liked it!