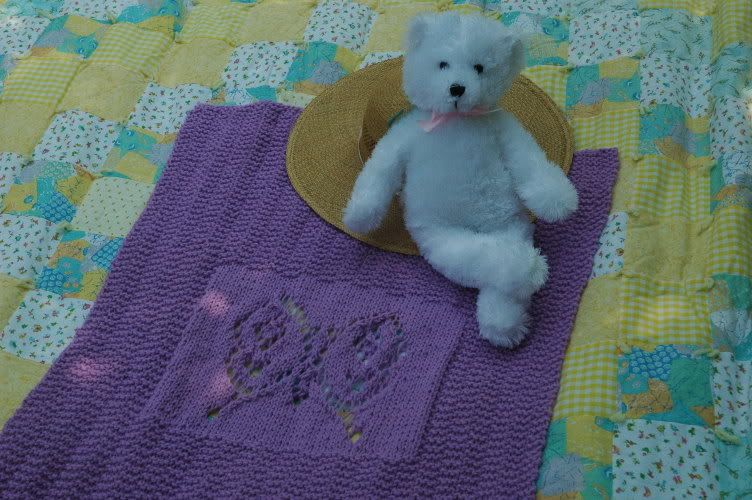 Children's Hospital of Oklahoma is filled with children in dire need of prayer and comfort. If you ever have any opportunity to help a child in need, I implore you to do so.
I know we can't each do all that needs to be done for every child, but we can all do something to make life better for someone. We can volunteer to read stories, play with children in the play room, something.
Friday afternoon I was contacted by a friend from one of my message boards who knows about my prayer shawl ministry. She lives in Jenks, up near Tulsa. A mutual internet friend's daughter from the Bartlesville area is in Children's Hospital and had a very extensive surgery related to her spina bifida. She will be in the hospital a total of 10 days or so.
Meanwhile, Mom's father is dying of cancer and may not survive long enough for her to see him again. And Dad's mother is also gravely ill. Imagine the grief and pressure this darling girl's parents are going through with their daughter, mother and father all in such dire condition.
My friend from Jenks asked if I could do a child's prayer shawl. Of course, no question about it. I thought I could finish it by Sunday morning to have it blessed by my church, but I was a bit optimistic about my abilities. I just now finished it on Tuesday afternoon, and it's been my full-time job for the past four days.
This was the 10th one I've made since March and each one has been very special to me. Lots of prayers have been said for the recipients and their needs. This lavender one didn't have fringe, but blessings from the church come through the Teddy Bear, which is part of our church's Comfort Critter ministry.
Each month, 90 to 100 teddy bears and other soft, stuffed animals are placed in our sanctuary. They spend a month with us in the congregation, listening to the music, the prayers and the sermons. Members of the congregation hug the bears during worship. At the end of a month, the animals are "commissioned" to go out into the world to provide comfort and loving support to children in need. We send the bears off to work with the state Highway Patrol. They keep the bears in their cruisers and give them to children who find themselves in a car accident, broken down by the side of the road or caught up in a bad situation we don't even want to imagine.
We've done this for about 15 months now -- close to 1,500 critters. And as many as we send, they are all used every month and there are always more children in need than we have bears to provide.
This bear sat with me Sunday morning when we listened to our new organ play for the first time. I asked him to go to work just a little bit early to go with this prayer shawl. He was happy to take the job!
Be like my little bear friend, please. There are tons of kids out there who need to know there are adults on their side, praying for them and rooting for them to have the life God intended them to have.