Once again wildfires are burning the little bit of what's left of Shamrock, OK, basically a little ghost town in Creek County.
Today the old school burned to the ground.
There may not be more than a handful of people still living in Shamrock, but it is important to me. Much of my family history centered here.
Shamrock was a boom town during the oil boom of the 1920s and 1930s. My grandparents worked and lived on the oil lease, where they raised a family of six children, including my dad.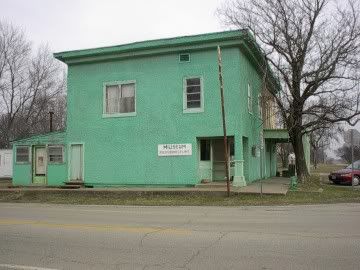 The Museum in Shamrock, OK. (2001)
In my lifetime there's never been much to the town, which at one time had up to 30,000 residents overnight. There's one two-story building in town, painted bright green. It's most recently been a "museum" of sorts, but that's a whole different story.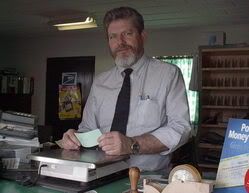 Postman at the Shamrock Post Office. (2001)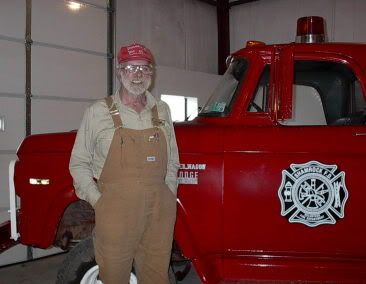 The Shamrock Volunteer Fire Department. (2001)
There's small volunteer fire department; a post office about the size of my living room, and a bar.
And a cemetery.
There are two days during the year which swell the population of Shamrock considerably. One, of course, is St. Patrick's day. Rather, it's the Saturday
before
St. Patrick's day; anyone who wants to come can be in a parade, or watch it. There's usually some sort of community meal, maybe a few activities for kids.
Say hello to my Dad, who is next to his brother and my grandparents at the Shamrock Cemetery.
The other boom day is Memorial Day, when the descendants of those who lived here gather at the cemetery. Now and then you'll hear one of the older survivors refer to the day as "Decoration Day." Graves are tidied up and decorated with flowers and flags; tombstones polished to remove the red dust.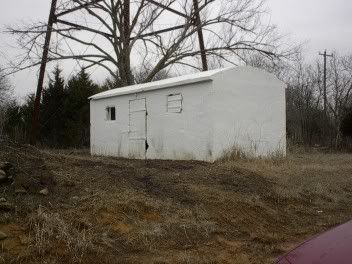 The Shamrock jail.
There are bits and pieces of other structures -- car dealerships, banks, a jail -- all long gone. There's just enough left to identify what they used to be, decades ago, when people actually strolled along the sidewalks and Saturday nights were wild.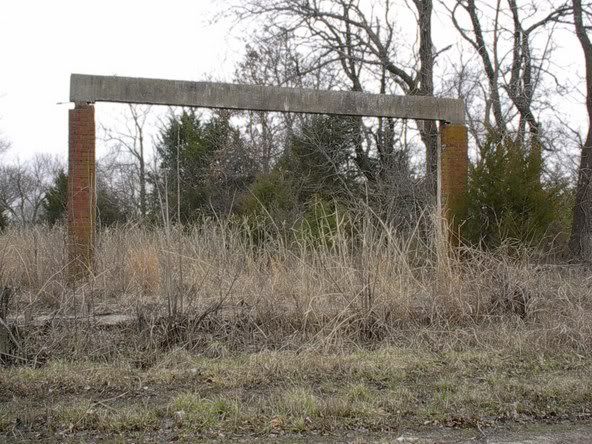 Remnants of a former bank (2001).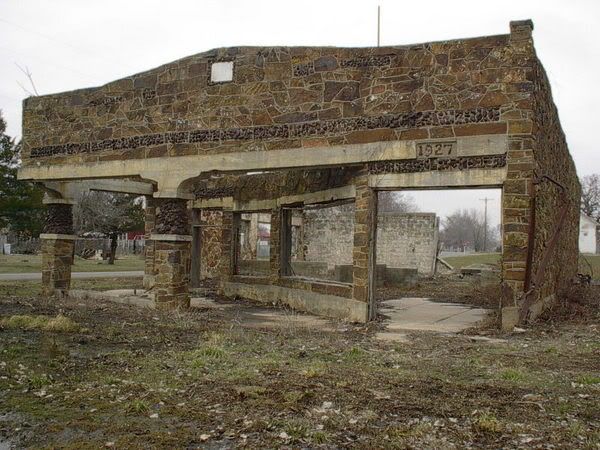 An early-day auto dealership.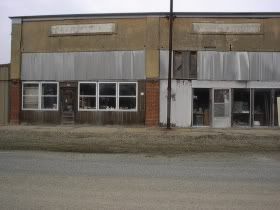 One of the last businesses of Shamrock; it looks like one day they just walked away and never came back.