It's midnight. I'm fatigued to the point of tears. There's a ton of stuff left undone that should have been finished before tomorrow morning. I wanted to make a few batches of cookies for the bake sale at church tomorrow. I even went to the store and bought all the stuff to make them.
There's still four partial scarecrows in various stages of repose in my house. I wanted to be able to deliver them in the morning.
Today (Sunday) is the church Pumpkin Festival -- besides the pumpkin patch we'll have a family fun festival with the moon walk, crafts, games, etc..... including the bake sale. There will be a lunch -- hot dogs and chips.
So why didn't I get my stuffed friends finished? Well, I've been working on the revival that will be NEXT weekend -- Oct. 17-19. I'm doing the publicity, pretty much by myself. I've done posters, handouts, newspaper calendar items, a blurb for the bulletin and an article for the church newsletter. And I've made some "trading cards" to give the kids and hand out at the festival tomorrow. I'm proud of the work I've done on this project.
But I'm tired. After the revival is over, I plan to take a break from being so heavily involved in so many different programs in the church. Too many things have overlapped at the same time.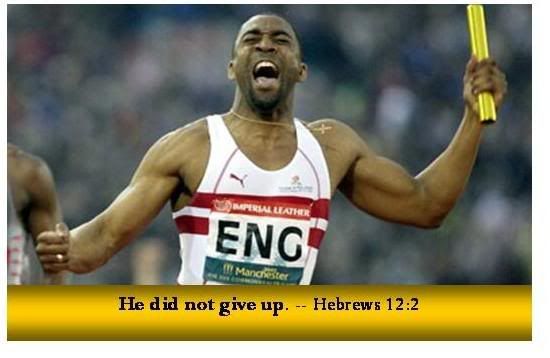 So here's an example of my trading cards. They are based on the evangelist's text, Hebrews 12: 1-4. He's using that as a foundation to speak about spiritual training. If an athlete wants to succeed, they prepare and train for their events. We, as disciples of Christ, should prepare as well to run the spiritual race.