Some recently taken photos of timber-framing and reclaimed old wood.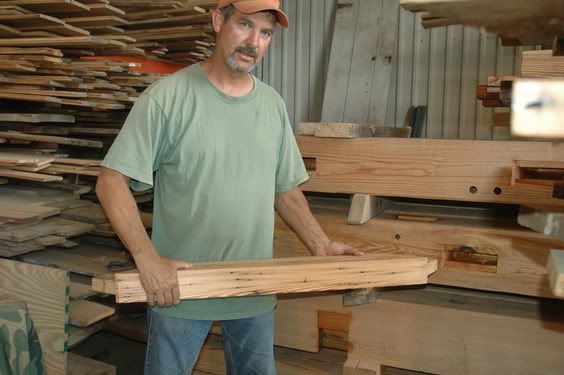 This is the owner of Renaissance Wood of Edmond, OK, Randy Henke. For the past several years he's been collecting wood from barns and other structures that are at least 100 to 150 years old. Many of the sources have been Amish barns in Pennsylvania.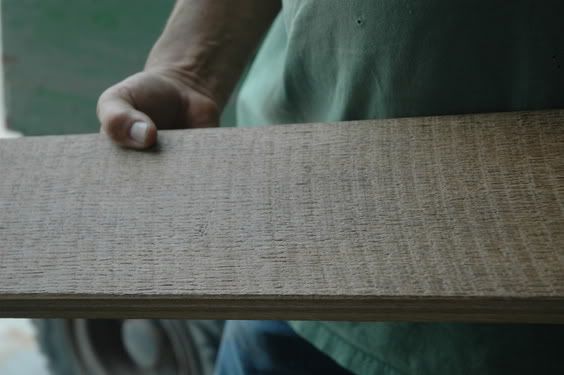 Some of it is antique quarter-sawn oak, like this board. Henke tries to preserve the character of the old wood, keeping the original saw marks like this. This particular piece was going to be used in flooring.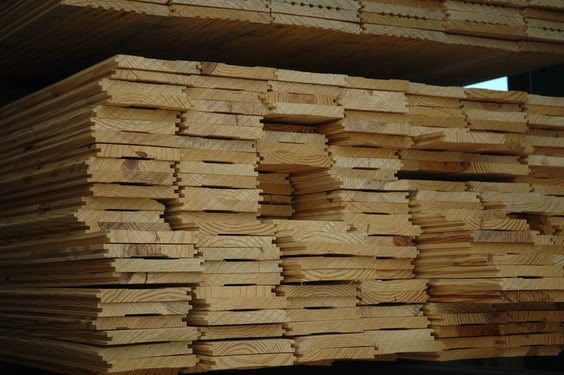 This is stacked yellow pine flooring that had been remilled and was being stored to use in a customer's home.
Henke's original goal was to collect enough wood, in the form of heavy beams and other substantial pieces, to build his own timber-framed home. His collection just happened to grow to such an extent that he formed the company to sell the excess, which helped fund his home-building.
He's now collected enough to complete his home, which will be raised in Omaha this summer.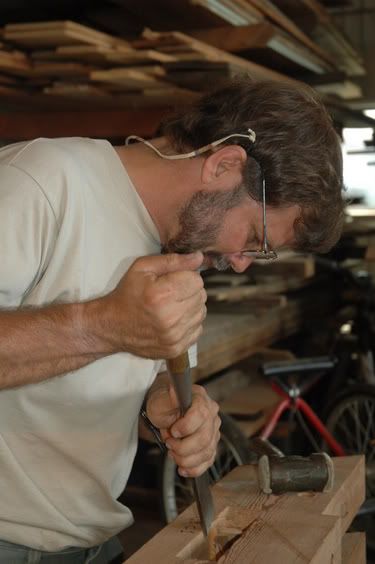 Itinerant timber-framer Jim Holzknecht of Kerrville, Texas, has been working on Henke's home for the past several weeks, carefully hand-cutting each mortise and tenon.
Each piece is numbered and stacked, ready to hoist on a truck to move to Nebraska where it will be raised in a week's time. The pieces will fit together like a Tinker-Toy puzzle. More reclaimed wood will be used to enclose the walls after the skeleton is put together.
"It's a very old and solid construction," Henke said. "The joints are held together with wood pins."
There's a down side to Henke's success, though. He's putting himself out of business now that it's time to raise the house. He and his wife will be moving back to Omaha to be close to family, which means it's time for him to sell the wood reclamation business he's built up here.
He's hoping to find a true owner, rather than an investor, to take over.
"So many people want to buy a business and cash a lot of checks," Henke said. "Those are called investors.
"Others want to buy a business to make a living and grow the business. Those are owners. Those are the people I'm looking for – people who want to get to know the material and who will love it."