Traffic was horrible coming home to Oklahoma City from Austin on Friday. I left Austin about 1 p.m., thinking I could get to OKC by 8 or 9 p.m. HAHAHAHAHA! What was I thinking? A Friday before a national holiday? Traffic was bumper-to-bumper in both directions from Austin to Fort Worth, I kid you not.
I got off Interstate 35 at one small Texas town just to get a Blizzard at the Dairy Queen. Well. That was 35 minutes I'll never get back, since everyone who lived in that little town had the same idea, times 10. But I did get my Blizzard, which kept me company in traffic all the way to Gainesville.
It was at Gainesville that traffic came to a DEAD stop because of construction. Yes, there were warnings on the electronic signs by the highway, but tell me, seriously, who is going to believe that the road REALLY is closed from one state to the next on a NATIONAL HOLIDAY?
Believe them, if you see those signs. I went 1 mile in 20 minutes, then finally bailed at the exit next to the outlet mall. I didn't care where I went, as long as I was moving and found a gas station. I would have been out of luck had I stayed on the highway and run out of gas, for sure.
So I decided to explore for a while, and took a couple of county roads, thinking I might find another bridge across The River. I wasted a few miles, but enjoyed the scenery, so I just counted that as a coffee break. Finally I pulled out my Oklahoma map, not being able to locate my Texas map. I found a couple of alternative bridges and set out to find one.
I'm telling you, I'll be going back along that route because I loved it so much.
I took out west of Gainesville looking for Saint Jo, a tiny little dot on the map. The map showed a farm to market road crossed the river north of there, and there wasn't any traffic in that direction to slow me down. I filled the tank and was on my way.
And here is what I found -- a treasure of an old town that hasn't changed in who knows how long!
Welcome to Saint Jo, population 977. It's built around a town plaza and still has the look of an old cattle town.
There's the custom boots store: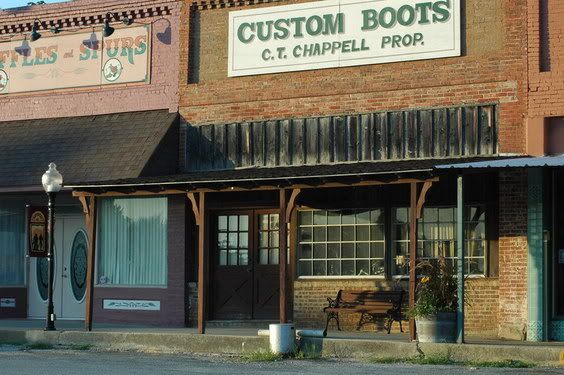 And a saloon:
The side streets look like there could be a shoot-out any day at high noon: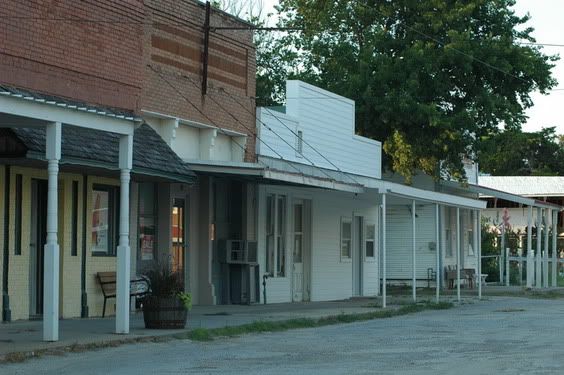 Time has stood still here, it seems, with broken windows left unrepaired, torn curtains still hanging in the rooms.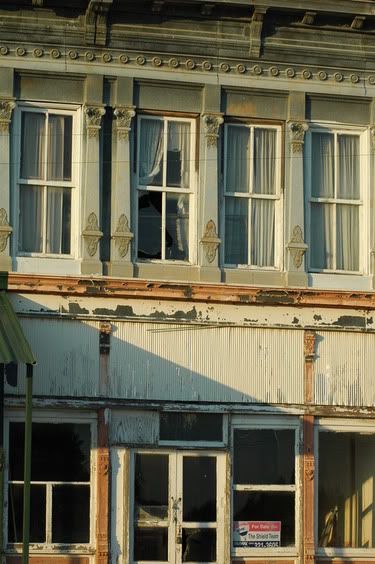 Even with the age of the buildings, there's attention to architectural details often missing in today's buildings.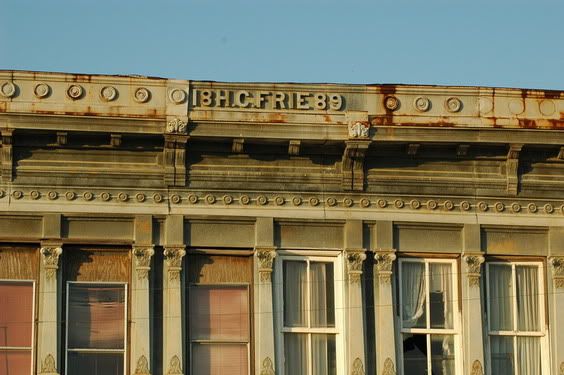 It's been a while since any customers consulted here at Weldon's Custom Interiors. Even the curtain rod has given up the ghost.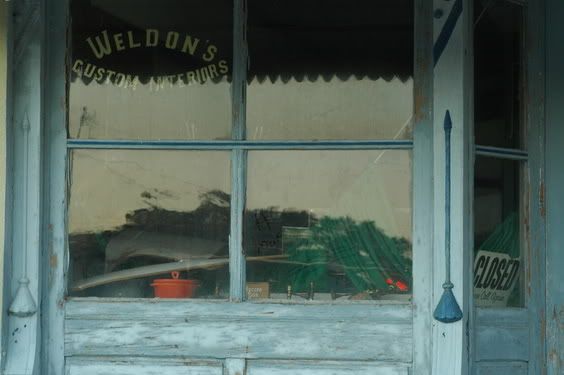 And let's not think this is just a movie prop built to look like an old town. It's the real deal. Check out this end wall on the west side of the saloon: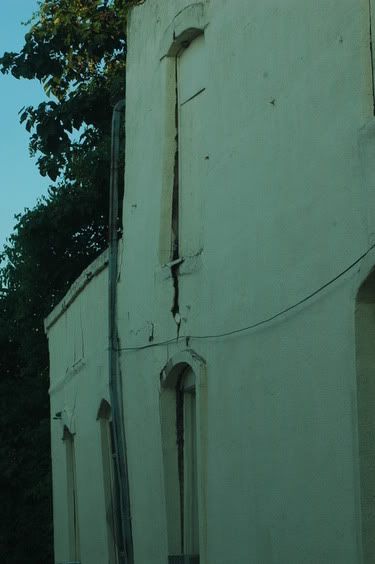 I'm glad I lost my way and found Saint Jo. Just northwest of here is the town of Nocono, where Justin boots are made. Maybe it'll be worth another trip south of the Red River to have an adventure there some weekend.