Many of my adventures have involved activities of today. This one will step back into history just over 140 years ago, in the midst of the Civil War. The war was a major changing point in my own family's history, as it was for most every American.
This weekend I visited a historically significant Confederate cemetery which is located less than a half mile from my family's farm in northwest Missouri, on the outskirts of Camden Point.
Today's population of Camden Point is 484, up from the 393 I recall it being during my childhood. There are 182 homes in the little town, a branch of the Mid-Continent Library System, a garage, Post Office and the Christian Church. Not much else, except bountiful farming.
Many decades ago there was a Christian College and a military academy. The college was burned at least twice, caught up in the Missouri-Kansas border wars.
Ah, but this adventure... let's get back on course, shall we?
This was the first time I've visited the Confederate Cemetery, simply because it was on the south side of the EE Highway, which is the route we always take to work our way back to Interstate 29. EE has always been an artificial border and I simply hadn't broken through it until Saturday evening.
I'm glad I finally did. I've learned this is the oldest Confederate monument west of the Mississippi River. It was established in 1871, seven years after the death of several members of Thornton's Missouri Cavalry on July 13, 1864.
Here's what I've learned:
In July of 1864,
Col. John Calhoun Thornton began recruiting men for Confederate service in Platte County. Even though the puppet Union government of Missouri forced the enlistment of its citizens into the "Enrolled Missouri Militia" (E.M.M.), approximately 1,500 E.M.M. members rallied to the Confederate cause.
These pro-Southern E.M.M. were sometimes known as the "Paw Paw Militia". According to one Federal report, "There never were more than 200 true Union men in this county" and "the Southern sympathizers all call themselves conservative Union men now, and are very active in withholding the facts and misleading the authorities."
Union General Clinton B. Fisk on July 12, 1864, reporting to Maj. Gen. Rosecrans, declared, "the Paw Paw militia in Platte County, with scarcely an exception, went over to Thornton in a body, and the great mass of the citizens have thrown off the mask and declared openly for Jeff. Davis and the Southern Confederacy. An abundance of Confederate uniforms was found to be in waiting at Platte City, and the Paw Paws with alacrity exchanged their blue jackets for gray ones.
Major Clark reports the uprising among the people as general... General, be not deceived, Missouri is as rebellious to-day as ever, and the earlier the national authorities act upon this conclusion the better. It will require more than 5,000 reliable U.S. troops to hold my district from a general uprising; every hour I spend among the people confirms me in this opinion."
While an account by Confederate Col. Thornton is not known to survive, it is believed his intentions were to liberate Platte and adjacent counties from Federal occupation and perhaps hold the area long enough until Gen. Sterling Price could arrive with reinforcements from Arkansas.
With a three- to four-hundred-man detachment, Col. Thornton "attacked and captured Platte City and its garrison of militia." Union General Clinton B. Frisk reported, "The Confederate flag has been waving over Platte City for two days, protected by men who for many months have worn our uniforms and carried under the stars and stripes the guns they now turn against us."
In response, Federal forces were not idle. On
July 13, 1864,
detachments of the 2nd Colorado Cavalry (under Col. J.H. Ford) and the 15th Kansas (under Col. Charles Jennison), sometimes known as "the worst body of cut-throats and freebooters that ever tortured a victim or looted a community", made a surprise attack on approximately 200-300 of Col. Thornton's Confederates at Camden Point.
Union Assistant Adjutant-General, G. A. Holloway reported, "Our combined forces had a fight with the rascals last night at Camden Point, burned the town and mustered out a few devils, but the rest were routed."
Col. J. H. Ford (2nd Colorado Cavalry) reported, "we ran on to the enemy at this place, killing 15 of them. Our loss, 1 killed and 1 badly wounded", "killed no citizens, although many of them need killing" as well as "capturing and destroying a large number of muskets, shotguns, cartridges, accouterments and also ten kegs of powder."
Even though the Federals reported killing 15 of Thornton's men, the Confederate memorial at Camden Point only lists six Confederates who died at the skirmish. The names of these six are: Robert McCormack; Jasper Clements; Almarine Hardin; Richard Alvis; Andrew Smith; and Jesse Myles.
These men were first buried on the battlefield, then later moved to the Camden Point Cemetery nearby. Aside from the human casualities, the loss in arms and especially gunpowder was a devastating loss to Col. Thornton's command. Although Thornton's forces again clashed with federals on July 17th near Fredericksburg (Ray County, Missouri), most of his forces dispersed, and the general uprising abandoned, being replaced with guerrilla tactical warfare.
(I believe this information was provided by Jerry Wheeler on a Camden Point history site. There is no credit given for the writing, but Wheeler is noted as the photographer at
Camden Point Confederate Memorial
These are my photos of the cemetery from Saturday evening. The Confederate graves and memorial are on the north end of the cemetery, which also includes many other graves, as you will see.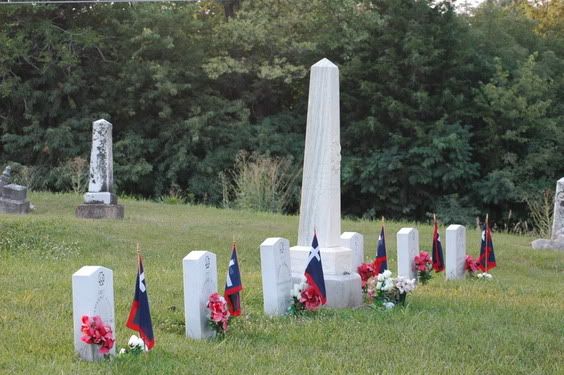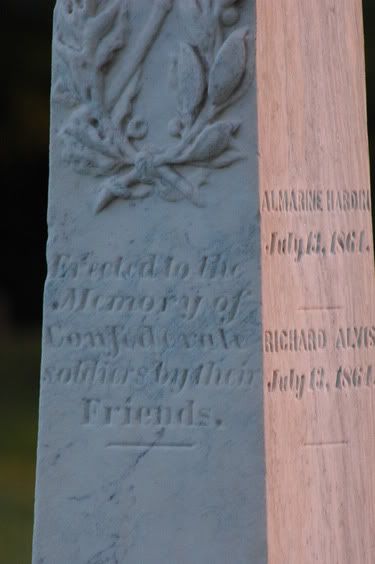 Local members of the Sons of the Confederacy continue to decorate the graves with Confederate flags, renewed during national holidays. The cemetery was reclaimed from an overgrowth of trees and brush several years ago by civic volunteers and the Boy Scouts.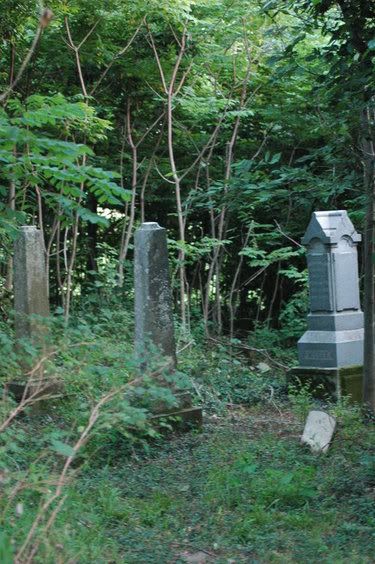 Nature continues to wage its battle against time, and it is very difficult to maintain the cemetery, especially as lines of families die out in the area. These graves remain hidden in the undergrowth as caretakers continue trying to recover them. The lure to this spot was intense; there was a cottontail rabbit that would hop past me, then stop long enough for me to catch up with him before hopping further into the woods. However, I stopped when I reached this spot, daring not to disturb the spirits long left sleeping here.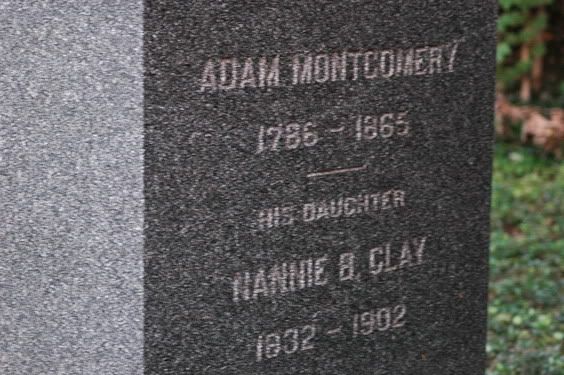 Some of the graves in this old cemetery are those of people who were born in the 1700s. I don't know when this family monument was erected, but is obviously has not been standing here as long as many of the headstones.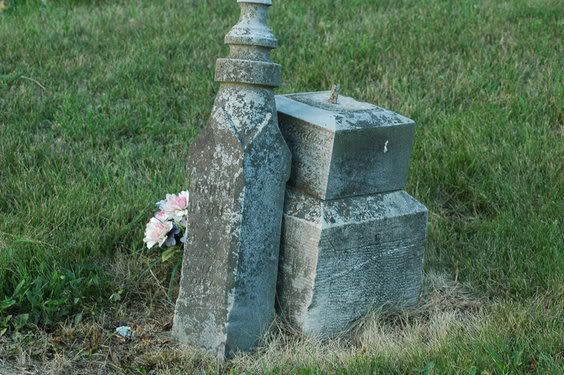 Many of the monuments have fallen over because of the creep of the ground. The cemetery, which is built on a hill, has fought the movement of the ground in several directions. Restorers have attempted to put all the pieces of these monuments together, with the hope of someday repairing them.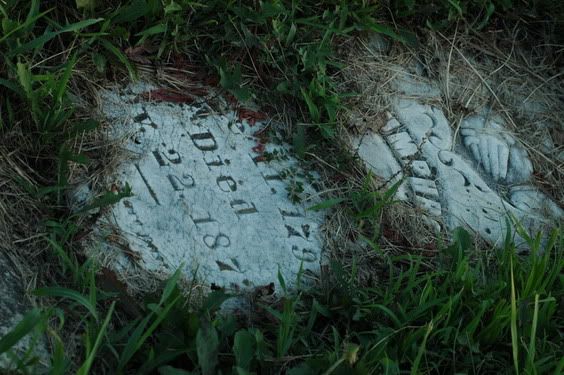 So many of the markers may be lost forever, unfortunately, covered over by the earth. Some of the taller markers were hollow inside when they were made, and so when time tipped them, they crushed under their own weight. I think this progression serves to remind us that from dust we were made and to dust we return, whatever our efforts at immortality may be.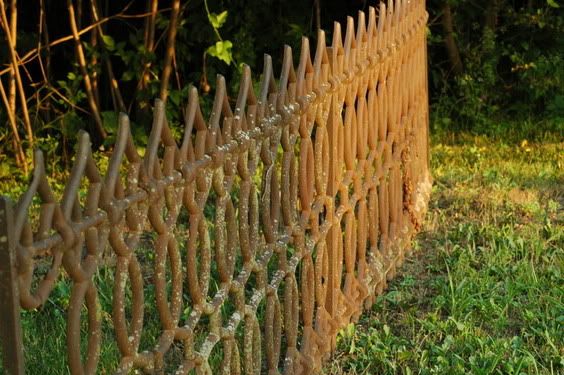 Even in this gated portion of the cemetery, there is little to tell us who lies below the soil. There are iron rods standing in some spots, apparently supports for some of the taller memorials left for loved ones. I am not sure what the fence designated, whether it was a particular family's plot within the cemetery or an area designated for a certain group of citizens.